Writer, filmmaker and Emory professor T Cooper presents excerpts from his award-winning documentary "Man Made" on Wednesday, Nov. 28, at 6:30 p.m. in the Woodruff Library's Jones Room. A question-and-answer session, book-signing and reception follow the film presentation.
Cooper, who joined the Emory faculty this year as an assistant professor of English and creative writing, is the author of eight novels including the bestselling "The Beaufort Diaries" and "Lipshitz 6 or Two Angry Blondes." In September, he published his ninth book, the fourth installment of "Changers," a young adult series he co-writes with his wife, journalist and author Allison Glock-Cooper. 
"Man Made" follows the journey of four transgender men, who like Cooper were born and raised female, as they prepare for and compete in Atlanta's Trans FitCon, the only all-transgender bodybuilding competition in the world.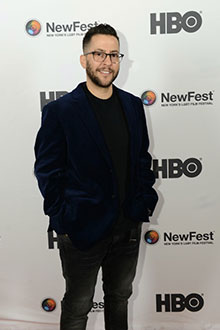 T Cooper joined the Emory
faculty this fall as an assistant
professor of English and
creative writing. He has toured
his film "Man Made" nationally
and internationally, where it
has garnered 11 film
festival awards.
This year, Cooper has toured the film nationally and internationally where it has garnered 11 film festival awards, including the Best Documentary Jury Prize at the 2018 Atlanta Film Festival and the Best Documentary Audience Award at Translations Film Festival.
Audiences have received the film and its warm portrayal of its subjects with enthusiasm. "The festival crowds have been great," says Cooper. "It's really cool getting to engage with an audience in real time, especially when we have the subjects from the film on hand. Audiences have really opened their hearts to them, too, which has been reflected in the number of Best Doc Audience Awards we've been honored with at festivals."
This outpouring of warmth towards the competitors in "Man Made" is not a new feeling to Cooper, who, upon meeting the subjects, found that his original plan to write a journalism piece about the competition would not do their stories justice.
"I heard about the competition shortly after I moved to Atlanta in 2014," says Cooper. "My immediate impulse was to write about it, maybe profile a few of the guys, take a photographer along for some portraits. But once I started talking to them, a more three-dimensional, 360-degree story began to emerge, and I knew I was the guy to tell it. But then I had to figure out how."
"I had never made a documentary before," says Cooper. "I had never really shot much footage, but my producing partner lent me some equipment, and I threw the camera on my shoulder and just started filming and recording, learning as I went."
Despite his lack of experience, budgetary constraints necessitated that Cooper take on all the major production roles. "I was essentially a one-man band," he explains. "Directing, producing, booking travel, setting up and conducting interviews, audio and lighting--and shooting it all. Not to mention fundraising as I went, so I could keep filming the guys wherever life took them."
The resulting documentary is both a fly-on-the-wall social justice narrative and a verité-style competition film. "That's the kind of documentary I have always loved: run and gun, organic stories," says Cooper. "It's about the intimacy of the storytelling — dropping into these guys' lives and going along for the ride." 
Collaboration and community
The experience of creating the film was at times stressful for Cooper. "I have so much respect for anyone that finishes an independent film," he explains. "It's just so harrowing at every point along the way, so improbable if you stop and think about it — so you try not to."
Thankfully, he did not have to complete the project entirely on his own. Support from executive producer Téa Leoni and a grant from the Sundance Independent Film Program were integral to the film's success. In addition, Glock-Cooper assisted in the writing and editing of the film.
Despite both Cooper and Glock-Cooper having their own separately successful writing careers, the pair have found in each other a fruitful creative partnership, co-writing the "Changers" series, developing and selling multiple television shows, and now writing together for NBC's "The Blacklist."
"It's really nice to have a partner with a similar work ethic, vibe and aesthetic that you trust so much," says Cooper. "We both want what's best for whatever piece we're working on — whether that be the YA series or a television episode — so even if those things are sometimes at odds and we tussle over details or elements, it's only because we both want it to be its best. And it always ends up improved in the end."
At Emory, Cooper has found a similarly encouraging and artistic atmosphere to the one he has at home. "The community here feels like a really supportive, creative environment," he says. 
Those good vibes are reflected in his feelings for Emory students as well. "I love the students. They're surprising and funny and smart and motivated."
While this year, Cooper is teaching mostly prose writing (intermediate and advanced fiction), next year he plans to share his film and television success with Emory students by teaching an introduction to television writing course.
"I have to figure out how to coordinate that with NBC series I'm currently writing for," says Cooper. "It could be really enriching to somehow bring the students in on that process, whether it's through dailies or scripts — or perhaps visiting other productions that may be active around town. I'm in the process of innovating that and trying to figure it all out for next fall."
In the midst of all this, Cooper has to somehow find time to work on his next novel ("I'm hoping this summer I'll really get into that") and enjoy the city that has become his home. 
"I love Atlanta," says Cooper. "It's hard to find a place I can live that's not New York City, but I feel like Atlanta is that place. I love the makeup of the city, the in-town neighborhoods, the trees, the food, the sense of humor, the diversity of creativity that's increasingly going on here. And I think it's only getting  better and better."
---