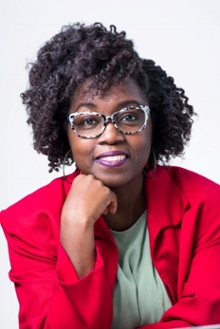 While Jasmine Clark has been politically active for several years, this year, she became an elected official for the first time, beating incumbent Clay Cox in District 108 of the Georgia House of Representatives. Clark holds a PhD in microbiology from Emory University and serves as an instructor for two prerequisite courses at the Nell Hodgson Woodruff School of Nursing.
Clark, who is also a first-time candidate, says it feels amazing to have won District 108, which covers a portion of Gwinnett County. Like many others running for office, Clark, her supporters and family members held a watch party on the evening of Nov. 6 that stretched into the early morning hours of Nov.7. At around 1:30 a.m., all precincts in District 108 had been reported. 
"We stayed up until 1:30 a.m. and I finally hit refresh on my phone and saw that I won by 172 votes," said Clark, still in slight disbelief days after the election. Once all votes were counted, Clark eventually won by more than 240 votes, which is just enough to avoid a recount. During her campaign, Clark told potential voters in her district that this race could come down to the difference between just 100 votes.  
Clark has held a keen interest in the sciences for most of her life. In 2017, she served as director of the March for Science in Atlanta. Since that time, she has continued to work with groups such as the Georgia Alliance for Social Justice. When asked what first motivated her to run for District 108, Clark said she wanted to get more people engaged in voting, first and foremost.
"I am a science-trained professional who wants to run a platform that is based on facts and is people focused," explained Clark. "I want to be a voice for the totality of Georgia. I want to inject facts into our decision making."
As an instructor at Emory Nursing, Clark deals in scientific facts while preparing students for the regular curriculum in the prerequisite courses, "Anatomy and Physiology I and II" and "Microbiology." These courses must be completed in order for pre-nursing students to enroll in the regular Bachelor of Science in Nursing undergraduate degree program.
"Jasmine teaches our students at a very critical stage on their academic journey," says Dean Linda McCauley. "Her election and community service sets a great example for Emory students."
Clark says creating nursing leaders is essential and that those who come through her prerequisite courses are fully prepared to tackle the rest of the curriculum.
"I'm a foundation builder," says Clark.
---