Emory University Hospital (including Emory University Hospital at Wesley Woods) has received Magnet recognition for a second time, a testament to its continued dedication to high-quality nursing practice. The American Nurses Credentialing Center's (ANCC) Magnet Recognition Program® distinguishes health care organizations that meet rigorous standards for nursing excellence. This credential is the highest national honor for professional nursing practice.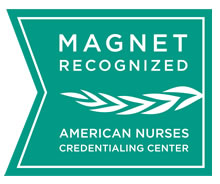 Emory University Hospital received its first Magnet recognition in 2014. Receiving Magnet recognition for a second time is a great achievement for the hospital, as it continues to proudly belong to the global community of Magnet-recognized organizations. Just 477 U.S. health care organizations out of over 6,300 U.S. hospitals have achieved Magnet recognition.
Georgia has only seven Magnet-recognized hospitals, three of which are Emory Healthcare hospitals: Emory University Hospital, Emory Saint Joseph's Hospital and Emory University Orthopaedics & Spine Hospital. 
"It is wonderful to celebrate with all of our nurses who are such an integral part of this Magnet journey," says Nancye Feistritzer, DPN, RN, NEA-BC, chief nursing officer and vice president of patient care services at Emory University Hospital. "The impact of our terrific nursing and inter-professional practice was clearly validated during the Magnet site visit in August. I want to thank each and every nurse for your excellence in care, while readily acknowledging the ongoing opportunities to strengthen and grow as a Magnet organization," says Feistritzer.
Research demonstrates that Magnet recognition provides specific benefits to health care organizations and their communities, such as:
Higher patient satisfaction with nurse communication, availability of help and receipt of discharge information.
Lower risk of 30-day mortality and lower failure to rescue rates.
Higher job satisfaction among nurses.
Lower nurse reports of intentions to leave their positions.
Magnet recognition is the gold standard for nursing excellence and is a factor when the public judgeshealth care organizations. U.S. News & World Report's annual showcase of "America's Best Hospitals" includes Magnet recognition in its ranking criteria for quality of inpatient care.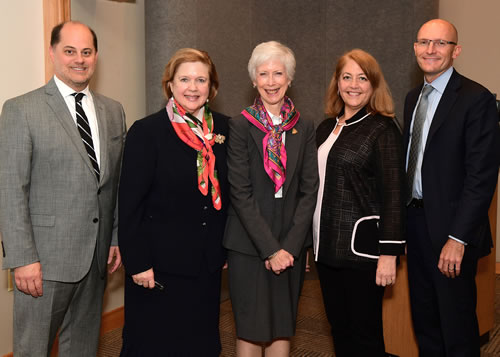 Left to Right– Chad Ritenour, Nancye Feistritzer, Sharon Pappas,
Polly Willis and Bryce Gartland celebrate Magnet recognition for
a second time with an excited team of nurses at Emory University
Hospital and Emory University Hospital at Wesley Woods.
"Being Magnet-recognized is a strategic priority for Emory Healthcare," says Sharon Pappas, PhD, RN, FAAN, chief nurse executive of Emory Healthcare. "We are in pursuit of all hospitals and ambulatory centers achieving Magnet designation. My belief is that when cultures are good for nurses, health care is good for patients. Congratulations to our outstanding team of nurses."
The Magnet Model provides a framework for nursing practice, research and measurement of outcomes. Through this framework, ANCC evaluates applicants across a number of components and dimensions to gauge an organization's nursing excellence. Elements deemed essential to delivering superior patient care include: the quality of nursing leadership, coordination and collaboration across disciplines and specialties, and processes for measuring and improving the quality and delivery of care.
"This re-designation is a testament to our culture of nursing excellence that we provide every day to our patients," says Bryce Garland, MD, Emory Healthcare Hospital Group President and CEO of Emory University Hospital and Emory University Hospital at Wesley Woods. "The Magnet surveyors recognized our demonstration of access, quality, efficiency and teamwork during their visit. Thanks to all of our nurses for their continued dedication."
To achieve initial Magnet recognition, organizations must pass a rigorous and lengthy process that demands widespread participation from leadership and staff. This process includes an electronic application, written patient care documentation, an on-site visit, and a review by the Commission on Magnet Recognition.
Health care organizations must reapply for Magnet recognition every four years based on adherence to Magnet concepts and demonstrated improvements in patient care and quality. An organization reapplying for Magnet recognition must provide documented evidence to demonstrate how staff members sustained and improved Magnet concepts, performance and quality over the four-year period since the organization received its initial recognition.
---
About ANCC's Magnet Recognition Program
The Magnet Recognition Program administered by the American Nurses Credentialing Center, the largest and most prominent nurses credentialing organization in the world — identifies health care organizations that provide the very best in nursing care and professionalism in nursing practice. The Magnet Recognition Program serves as the gold standard for nursing excellence and provides consumers with the ultimate benchmark for measuring quality of care. For more information about the Magnet Recognition Program and current statistics, visit www.nursecredentialing.org/magnet.
About Emory University Hospital
Emory University Hospital (EUH) was founded in 1904 as Wesley Memorial Hospital, with 50 beds. Today, EUH has 733 licensed beds, including 82 beds at Emory University Hospital at Wesley Woods. The teaching hospital is well-known for its specialties in cardiology and cardiac surgery; cancer; brain health services (neurology, neurosurgery and psychiatry), transplant and more. It is staffed by more than 1,450 Emory faculty physicians and over 4,000 employees. In 2014, the first patients treated for Ebola virus disease in the U.S. were cared for in the hospital's Serious Communicable Diseases Unit. EUH is a Magnet hospital, a designation earned by only seven percent of U.S. hospitals for nursing excellence. In 2018, U.S. News & World Report again ranked EUH the No. 1 hospital in both metro Atlanta and Georgia.
---