Emory Healthcare is proud to welcome DeKalb Medical to the family, advancing patient care in the metro Atlanta community and beyond. On Friday, Sept. 14, partnership celebrations for employees, local leaders and government officials were held at each of the three DeKalb Medical locations, along with unveilings of new hospital signs at each facility.
DeKalb Medical officially became a part of the Emory Healthcare system on September 1, 2018. As part of the integration, DeKalb Medical's hospital on North Decatur Road is now named Emory Decatur Hospital; DeKalb Medical Hillandale is now Emory Hillandale Hospital; and DeKalb Medical Long-Term Acute Care at Downtown Decatur is named Emory Long-Term Acute Care.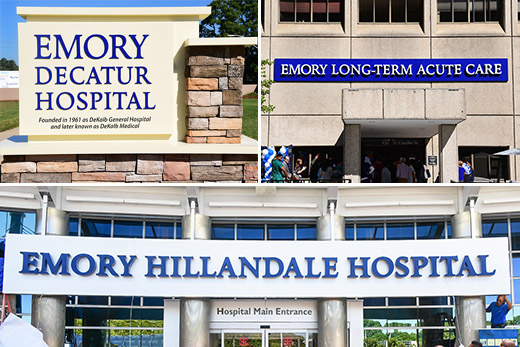 The partnership between Emory and DeKalb Medical brings together the best of both worlds – the discovery and innovation of an academic medical center together with a high-quality, deeply-rooted community health system.
"Today's celebrations signal the start of a great new partnership between our two organizations," says Jonathan S. Lewin, MD, president and CEO of Emory Healthcare. "We welcome DeKalb Medical to our growing health care system. We know that both DeKalb Medical and Emory patients will benefit from this partnership through extended services, more physicians and additional locations to receive care."
The two health systems initiated their requests for a partnership in November 2017 through a formal Letter of Intent. The Federal Trade Commission approved the partnership in March 2018. Then in early August 2018, the Georgia Attorney General's Office announced the approval of the strategic partnership and integration of DeKalb Medical and Emory.
Jim Forstner, who has served as the executive vice president and chief operating officer of DeKalb Medical since 2016, has been named CEO of the three newest hospitals. "This is a landmark day for us and the beginning of a new era in health care for DeKalb County," says Forstner. "I am honored to serve and support the employees and physicians who deliver care in our institutions and excited to have the support of the larger Emory Healthcare system to serve this community."
DeKalb Medical is a not-for-profit health system consisting of three hospital campuses with a combined 627 licensed beds. It has 55 practice locations throughout DeKalb and Gwinnett counties, more than 800 doctors on its medical staff in nearly 50 specialties and 4,000 employees.
Emory Healthcare, a nonprofit organization, is the most comprehensive academic health system in Georgia, with seven hospitals and 200 provider locations in metro Atlanta and surrounding communities, including nearly 60 urgent care and MinuteClinics. It has more than 2,000 physician providers in 70-plus specialties, including more than 120 in primary care. With an additional 23 regional affiliate hospitals, Emory Healthcare has a footprint in more than 40 counties throughout the state.
---