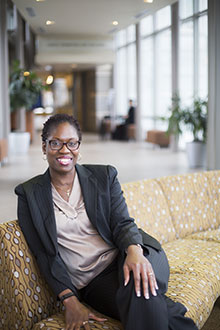 Scholars from around the world who research injustice across multiple disciplines will gather at Emory this week for the International Society for Justice Research conference. 
Themed "Interrogating Injustice," the event highlights issues related to race, the distribution of health care and where the two overlap. Such discussions play to Emory's excellence in those fields as well as the university's focus on interdisciplinary research.
"This is an opportunity for Emory to showcase some of its strengths, and for researchers to develop collaborations across disciplinary boundaries," says Karen Hegtvedt, an Emory College of Arts and Sciences sociology professor who organized the conference. 
Psychologist Melvin Lerner, a pioneer in the psychological study of justice, started the conference in 1986. It has since expanded to include social scientists in fields such as economics and sociology as well as researchers in environmental sciences, health and law.
Hosting in conjunction with Georgia State University and the University of Georgia, the event runs from July 25-28 at Emory's Rollins School of Public Health. It will draw academics from the United States, Europe, China, Israel and Australia to discussion topics as varied as climate change and corporate social responsibility.
Daily sessions are open only to conference attendees, as is an address by Bernard Lafayette Jr., distinguished scholar-in-residence at the Candler School of Theology and national board chair for the Southern Christian Leadership Conference, on the strategy of nonviolent social change. 
Keynote addresses by Emory professor Kimberly Jacob Arriolaand ISJR President Jan-Willem van Prooijen will be held in the auditorium of the Claudia Nance Rollins building and are open to the public.
Best known for developing and evaluating interventions that improve access to transplantation and improve public commitment to organ and tissue donations among African Americans, Arriola will speak at 3:45 p.m. Thursday on the role of racism in health. She serves as associate dean for academic affairs at Emory's Rollins School of Public Health.
A senior researcher at the Netherlands Institute for the Study of Crime and Law Enforcement, van Prooijen will speak at 3:45 p.m. Friday on how conspiracy theories play into justice research. He is also an associate professor in the department of experimental and applied psychology at VU Amsterdam.
In addition to those addresses, a handful of sessions will also work to connect front-line organizations and activists from Atlanta-based organizations, such as those associated with the Emory Institute for Developing Nations and The Carter Center, with academics researching common concerns.
"If research scholars listen to what's happening on the ground, that may inspire their work, while organizers who listen to researchers might gain new perspectives," Hegtvedt says.
---