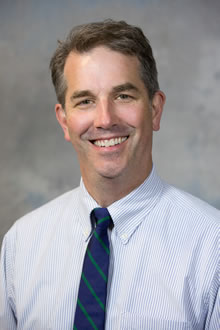 Thomas P. McGahan, M.D., chairman of the Department of Medicine at Emory Saint Joseph's Hospital, was recently named chief medical officer of the facility. In this role, he will serve as the senior administrative physician on the Emory Saint Joseph's Hospital administrative team and work collaboratively with Emory Healthcare (EHC) operating units and the Office of Quality and Risk to achieve quality and safety initiatives.
McGahan has been a member of the medical staff at Emory Saint Joseph's since joining Metro Atlanta Gastroenterology in 1994, where he will continue to be available to see patients. A leader in the field of gastroenterology, McGahan has been instrumental in advancing patient-centered care at Emory Saint Joseph's. He was one of the first physicians to perform endoscopic ultrasound, making Emory Saint Joseph's the first healthcare facility in North Atlanta to offer this service for patients. McGahan also expanded Emory Saint Joseph's GI medical conferences, and serves as moderator of the semimonthly abdominal tumor conference.
McGahan currently holds a variety of leadership positions including serving as a member of the EHC and Emory Saint Joseph's Hospital boards, EHC marketing executive advisory committee, and the Saint Joseph's Health System Board of Trustees.
In addition to these roles, McGahan is also the 2014 recipient of the annual Burson Award, Emory Saint Joseph's highest honor for physician service. Recipients are selected for their leadership as a member of the medical staff, contributions to the quality of medicine and adherence to the Mercy philosophy and contribution to the Mercy mission in Atlanta.
McGahan received his undergraduate degree from the University of Notre Dame and medical degree from Emory University. He completed his fellowship in digestive diseases at the University of Cincinnati.
---