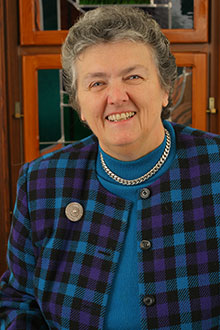 International lecturer and award-winning author Joan Chittister will speak on her latest book, "Radical Spirit: 12 Ways to Live a Free and Authentic Life," on Sunday, April 29 at 7:30 p.m. at Emory University's Cannon Chapel.
The event, hosted by Candler School of Theology's Aquinas Center, is open to the public, but registration is required. Register here. A suggested donation of $25 will be taken at the door. Chittister's books will be available for purchase and a book signing will follow her lecture.
Chittister's book draws on ancient teachings of the saints to offer a practical program to help people transform their thinking and rebel against fears, judgments and insecurities. Through these simple rules for healthy spiritual living, Chittister reminds us to develop enduring values by shifting our attention to how God wants us to live.
A member of the Benedictine Sisters of Erie, Pennsylvania, Chittister has authored more than 50 books and won 16 Catholic Press Association awards, as well as numerous honors for her work for justice, peace and equality. She also pens an online column for the National Catholic Reporter and a blog for the Huffington Post.
Chittister has been featured on Oprah Winfrey's "Super Soul Sunday," "Meet the Press," "CBS News," "NOW" with Bill Moyers, and "On Being" with Krista Tippett. She is a former fellow at St. Edmund's College, Cambridge University, and currently serves as co-chair of the Global Peace Initiative of Women, a partner organization of the United Nations. She also has served as president of the Leadership Conference of Women Religious, president of the Conference of American Benedictine Prioresses, and prioress of the Benedictine Sisters of Erie.
Chittister is executive director of Benetvision, a resource and research center for contemporary spirituality, and the founder and animator of Monasteries of the Heart, a web-based movement sharing Benedictine spirituality with contemporary seekers. She earned her doctorate in speech communications from Penn State University.
This event is co-sponsored by Ignatius House Jesuit Retreat Center, St. Thomas More Catholic Church, and Our Lady of Assumption Catholic Church.
Cannon Chapel is located on the campus of Emory University at 515 South Kilgo Circle, Atlanta, GA 30322.
---