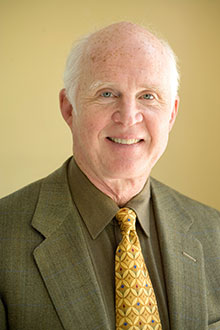 Historian Taylor Branch visits Emory on Thursday, April 5, to deliver the annual James Weldon Johnson Distinguished Lecture. Discussing "Lift Every Voice: Martin Luther King Jr. and James Weldon Johnson," Branch will convey a simple but thought-provoking message: both Johnson (1871–1938) and King (1929–1968) are underappreciated figures.
The lecture begins at 4:30 p.m. in Emory's Cannon Chapel, followed by a book-signing and reception at 6 p.m. Tickets are free with an Emory ID or $2.50 for the general public. Register for tickets here. 
In his lifetime, Johnson was an author, educator, lawyer, diplomat, songwriter and civil rights activist. He was the first African American to be chosen executive secretary of the National Association for the Advancement of Colored People, in which capacity he served from 1920 to 1930. He was also a respected member of the Harlem Renaissance, both for his own poems and novels and for the anthologies he compiled of poems and spirituals representing black culture.
In thinking about his subject, Branch especially marvels at Johnson's diplomatic work, astonishing for a man of color at that time. He served as U.S. consul in Venezuela and Nicaragua from 1906 to 1913. 
Branch reveals how he came to the work that has dominated his career — renowned scholarship on the life and career of Martin Luther King Jr. He talks about how his "formative years were upended by the 1960s." Indeed, the forces around him are undeniable: Brown v. Board of Education (1954) passed when he was in first grade, and King was killed in his senior year of college (1968); sandwiched between those moments was an unprecedented level of social change that included the civil rights movement and the Vietnam War. 
Even as a young man, Branch says that he "found it very instructive the way that adults pretended not to be bothered by social injustice." For instance, "in college, my teachers told me that our schools were not segregated; rather, we just didn't find the right applicants," he says. 
Originally planning to become a doctor, Branch eventually became interested in philosophy and then in journalism, which he affectionately refers to as a "halfway house." He worked as a staff journalist for Washington Monthly, Harper's and Esquire. 
Given that, he says laughingly, "my wife had a job with health benefits," Branch became a public scholar. He turned to King in his writing, he says, "because I was trying to cover a period of history in which he was at the center. King was a dominant spokesperson."
As he assessed the literature on King, Branch felt that it was too analytical. "What had been written skimmed over the force that I felt," he explains. "I had — and believed others did as well — a visceral reaction to things that I saw and heard. It should be more personal. We learn about race relations in personal encounters. I therefore wanted to write storytelling books."
A Stanford professor once asked Branch how he could call himself a historian without a PhD. And Branch has the answer: chase sources diligently, utilize libraries to their fullest, call on FBI records, and, above all, paint a vivid picture of what he calls "the actual characters" in any story. 
Branch is the author of a monumental trilogy on King, which began with "Parting the Waters: America in the King Years, 1954–1963" — a volume that won the Pulitzer Prize for history in 1988 and the Book Critics Circle Award in addition to being a finalist for the National Book Award in nonfiction.
Next came "Pillar of Fire: America in the King Years, 1963–1965" and finally "At Canaan's Edge: America in the King Years, 1965–1968." As Timothy B. Tyson, writing for the News & Observer (Raleigh, N.C.), commented, "Taylor Branch has become the most important narrator of America's democratic aspirations. … [The King trilogy] is a profound act of citizenship, scholarship and storytelling as he brings those years to life and lets them speak their truth for the ages."
Branch, who received an honorary degree from Emory in 2017, hails from Atlanta where, he says, he was "48 hours from signing up to play football at Georgia Tech" before deciding to attend the University of North Carolina–Chapel Hill. At the time he attended, the only female population consisted of nursing students — another injustice that did not escape his notice. 
Branch believes, with a singular passion, that had we not turned away from what King taught us, "we would not be in this cynical age."
"Today is the logical progression of people being hostile and sarcastic about 'we the people,'" he says. Nonetheless, even amid cynicism, he points to the "energy that the civil rights movement released — for religion, for women, for the LGBTQ community."
Consultant to President Clinton 
Though Branch is best known for his work on King, his interests and successes have ranged widely during his career. In 2009, Branch published "The Clinton Tapes: Wrestling History with the President." The two men had known each other since 1972, when they had shared duties coordinating the McGovern presidential campaign in Texas. In fact, they shared an apartment together along with Hillary Rodham, who would hold out for three more years before agreeing to marry Clinton.
Years later, as Clinton was poised to take office following the 1992 election, he contacted Branch and asked if he would consult on the best means to keep records during his time in office. Clinton wanted to know whether Branch would agree to be his in-house historian — as he referred to it, his "Arthur Schlesinger."
Branch says that he was "impressed that Clinton cared enough about history to explore these issues before taking office." He advised him to keep a diary, but Clinton wasn't keen on that idea. Instead, they agreed to create an unfiltered, contemporaneous record. Their system involved Branch being called, often with little notice, to come from his home in Baltimore to the private residence of the president, usually in the evening in order to attract the least notice.
In some ways styled as bull sessions between old friends, they usually talked for about two hours, at the end of which Branch handed Clinton the only two copies of the tapes, which Clinton put in what he called "a good hiding place" — his sock drawer.
As reporter Michael Sragow of the Baltimore Sun wrote at the time of the book's release, "Branch's resolute honesty about his diverse roles within the Clinton saga imbues the book with a prismatic perspective. He ended up serving as speech-writing consultant, reluctant political counselor and, astonishingly, international go-between. He shuttled messages to and from Haiti's President Jean-Bertrand Aristide, and, at one point, entered the impoverished country without a passport." 
Chronicling King's movement
In addition to his Johnson lecture, Branch is traveling to promote "King in the Wilderness" — a documentary about the last three years of King's life for which he is one of the executive producers.
It premiered on HBO on April 2 and, as Branch writes excitedly on his website: "Please allow me a quick statement of joy: At last! For 30 years … I have been trying and failing to move authentic civil rights history from the printed page to film. Thanks to HBO and Kunhardt Films, my long quest will end." Branch will be in Memphis, the site of the King assassination, talking about the film just before he comes to Emory.
Asked why King has been his predominant subject for so long, the depth of his admiration is clear. Says Branch, "King's work was nothing less than to redeem the soul of America. He and his followers dug deep into the optimism of the American experiment.
"How have I stayed at the task of chronicling the movement King led? Let's just say that I have remained enthralled with the material. The health of race relations is the best lens for whether or not our society is progressing."
---