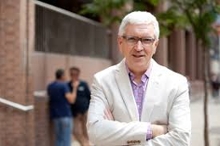 Jim Lavery, Ph.D., Conrad N. Hilton Chair in Global Health Ethics at Emory University and Hilton Professor of Global Health Ethics at the Emory Rollins School of Public Health, was awarded the Global Forum for Bioethics in Research (GFBR) Award for his significant contributions to progress in international research ethics. While GFBR has been in existence for several years, the award is a recent development, making Lavery among the first to have received it.     
"The first few people to have received this award are such fantastic people," says Lavery. "To be recognized among this group and to have my work acknowledged is so exciting."
Since Lavery was unable to attend the ceremony in person, he accepted the award by videoconference from London during last November's GFBR meeting in Bangkok. The award was presented by two Fogarty Fellows Lavery knew personally, and was accepted on his behalf by his close friend and bioethics luminary, Ross E.G. Upshur.
"The field of bioethics is chronically motivating, because we're still not there yet," says Lavery. "Another motivating factor is the people working in this field. They really care. They're smart. They truly want to make the world better, especially the young people."
Lavery is globally recognized for his research in global health ethics and is the inaugural Hilton Chair in Global Health Ethics at Emory University and the first Hilton Professor of Global Health Ethics in the Hubert Department of Global Health at Rollins. His current work, funded by the Bill & Melinda Gates Foundation, revolves around developing a global learning platform for community and stakeholder engagement that can be used by public health partners worldwide.
---