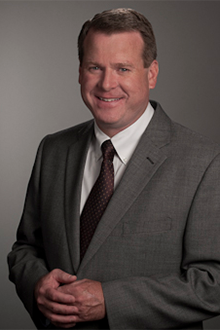 Emory University President Claire E. Sterk has announced the appointment of David B. Sandor as senior vice president of communications and public affairs. Sandor will join Emory on March 19.
"I am very pleased to announce Mr. Sandor's appointment," says Sterk. "David brings extensive experience in communications and government relations to our talented team here at Emory. He is a proven, thoughtful leader who values teamwork in a collegial, productive and strategically driven environment."
Emory's Communications and Public Affairs division works strategically through print, digital and media platforms to create awareness, understanding and support of the university and its mission. The division is comprised of integrated teams in media relations, government and community affairs, marketing, digital strategy and design, photographic and video production, and editorial and graphic design services.
Sandor most recently served as vice president for corporate communications and public affairs for Health Care Service Corporation, an independent licensee of Blue Cross and Blue Shield (BCBS) Association in Chicago. His responsibilities included media relations, crisis management, employee and executive communication, integrated marketing communications and social media positioning. Sandor also implemented a multicultural marketing campaign and initiated customer communications campaigns that resulted in significant market segment gains.
Sandor brings extensive experience aligning business practices with social responsibility initiatives to effect positive change in communities. He developed an award-winning initiative to reduce the incidence of childhood asthma, a program that earned recognition from the US Chamber of Commerce Foundation, Boston College and the Environmental Protection Agency. During his tenure, the company was recognized by The Civic 50 and the World's Most Ethical Companies for its leading community relations strategies and programs.
"It is my privilege to help communicate Emory's outstanding record of academic excellence, health innovation, and deep engagement in the Atlanta community," says Sandor. "I look forward to working collaboratively across the university to ensure we build a strong Emory identity and reach out through innovative platforms to our many constituents around the world."
Sandor has a bachelor's degree in International Affairs from George Washington University. He has served on the Civilian Public Advisory Council of the US Military Academy at West Point, the Communications Advisory Board of the College of Charleston, and is a member of the Arthur W. Page Society, the world's leading professional association for senior public relations and corporate communications executives and educators.
---