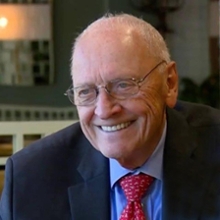 Dear Emory community,
It is with great sadness that we inform you of the passing of H. Kenneth Walker, MD, beloved professor of medicine and neurology in the Emory University School of Medicine, and professor of global health in the Rollins School of Public Health.
Walker's connection to Emory ran deep. He earned his associate's degree from Emory's Oxford College, graduated from Emory College, and then earned his MD from Emory School of Medicine.
His 60-year career included an unrivaled dedication to Grady Memorial Hospital. His connection to Grady began in 1958 when he was a third year medical student. He completed his residency training at Grady and remained there until 1965, only leaving to serve two years in the U.S. Air Force in southeast Asia during the Vietnam War. Walker returned to Grady in 1967 and became a faculty member in 1970, where he eventually served as the assistant chief of the Emory medicine service at Grady. He was honored during last year's Grady White Coat Gala for more than 40 years of service to the hospital.
Walker was also committed to global health outreach. He worked in many countries and had a huge impact in the country of Georgia. For more than 25 years, as executive director of Partners for International Development, Walker led the Atlanta-Tbilisi Partnership, a collaboration between educational and health care institutions in the country of Georgia and Atlanta. The partnership's many projects were and continue to be instrumental in improving the quality of health care in the country of Georgia.
In addition to his skills as a physician, Walker was extremely dedicated to the education and training of medical students and directed Emory's internal medicine residency program, junior medicine clerkship, and sophomore clinical methods course. He personally trained more internal medicine residents than any other physician at Emory. Through his strong mentorship skills, numerous medical residents, students, and colleagues learned valuable lessons about dedication, professionalism and patient-centered medical care.
"Ken was an educator and a mentor but, first and foremost, a doctor and an incredible patient advocate," says Carlos Del Rio, MD, Hubert Professor and chair of the Department of Global Health at the Rollins School of Public Health, professor of medicine in the Division of Infectious Diseases and interim executive associate dean for Emory at Grady at the Emory University School of Medicine. "It is impossible to calculate the number of medical students and residents that Ken mentored. I am privileged to have been one of them."
Walker's passing is a huge loss for the Emory community. He will be missed by all. We invite you to celebrate his legacy by viewing this video in which he talks about himself and his role in the Emory School of Medicine.
Walker's visitation and funeral arrangements are below. 
Visitation
Monday, February 26 from 4 - 7 p.m
A.S. Turner and Sons
2773 North Decatur Rd. Decatur, GA 30033
Funeral

Tuesday, February 27
The family will receive friends again at 1 p.m.
Service starts at 2 p.m.
Fishing Creek Baptist Church
182 Floral Hill Road Tignall, GA 30668
You can also see his tribute wall and obituary at A. S. Turner & Sons website.
Memorial Fund
Memorial gifts can be made to the H. Kenneth Walker Resident Education Fund to help fund equipment, research, and attendance at national conferences for residents of the J. Willis Hurst Internal Medicine Residency program. Gifts can be made online or by check. Make checks out to "Emory University" with "Ken Walker Fund" in the memo line and send to the Office of Gift Records, Emory University; 1762 Clifton Road, Suite 1400; MS: 0970-001-8AA; Atlanta, GA 30322-4001. Please contact Andrew Christopherson, Director of Development at Emory University School of Medicine at andrew.christopherson@emory.edu or 404.727.8253 with any giving questions.
 
With sympathy,
Jonathan S. Lewin, MD, FACR, Vikas P. Sukhatme, MD, ScD, and David S. Stephens, MD
---