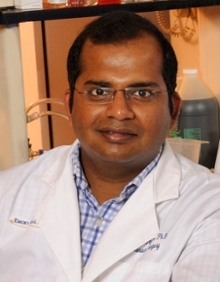 Muralidhar Padala, PhD, assistant professor of cardiothoracic surgery in the Department of Surgery of the Emory University School of Medicine, has been selected as the 2018 recipient of the Albert E. Levy Scientific Research Award in the Junior Faculty Division.
The Albert E. Levy Award is an annual recognition awarded by the University Research Committee in the Emory Office of the Provost to recognize the contributions of Emory faculty members to the advancement of scientific knowledge.
Padala is director of the Structural Heart Research and Innovation Laboratory in the Carlyle Fraser Heart Center at Emory University Hospital Midtown and is a program faculty member in the Wallace H. Coulter Department of Biomedical Engineering at Georgia Tech and Emory University. He oversees an interdisciplinary team of engineers, biologists and surgeons focused on research problems in heart surgery.
In announcing the award, the awards committee noted that Padala's scientific contributions to the field of cardiothoracic surgery are truly timely and significant in the development of a research program focused on bioengineering approaches to cardiovascular intervention. 
Padala will receive the award and a $1,000 honorarium at the John F. Morgan Distinguished Faculty Lecture on Tuesday, Feb. 6 from 4-6 p.m. in the Cox Ballroom of Cox Hall. Emory history professor Carol Anderson will deliver this year's Distinguished Faculty Lecture.
Padala's cross-disciplinary research laboratory applies bioengineering principles to improve and optimize cardiovascular interventions, both surgical and interventional, to improve the durability of the surgery and the patient outcomes. Interventions in the cardiovascular system are complex, as the surgical reconstruction or implanted material/device used for reconstruction must withstand the hemodynamic forces in each heartbeat for the rest of the patient's life.
Since joining Emory in 2010, Padala's research has focused on the biomechanical optimization of heart valve surgical techniques, delineating the shortcomings of current techniques and developing new ones. One such technique to repair the mitral valve that emerged from his research is currently being investigated in human clinical trials by his mentor, Robert A. Guyton, MD, funded by an NIH R01 grant to Padala.
Padala's research has also resulted in a new interventional device and catheter to repair leaky mitral valves. This is achieved in a beating heart with a small catheter, without the need for traditional open-chest, arrested-heart surgery. This technology is currently in the pre-clinical testing phase, through grants from the Coulter Foundation and an NIH R01 grant. Padala's most recent research has focused on understanding the impact of valve disease on heart failure and developing devices that can reduce myocardial wall stress, aided by grants from the American Heart Association.
Prior to joining Emory, Padala completed his PhD in Bioengineering from Georgia Tech, and a BS in Mechanical Engineering with a thesis on flow modeling in supersonic combustion engines from Osmania University in India.
---