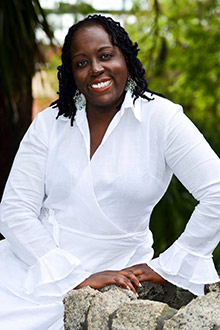 This semester's Emory Cinematheque series, "Black Lives on the Small Screen," takes a long look at television created for, targeted toward and most often written by African Americans. Showcasing both non-fictional and scripted programs, the series' span extends from late 20th century offerings to the present day.
Free screenings begin Jan. 24 and continue on Wednesdays at 7:30 p.m. through April 18. The series is curated by Beretta E. Smith-Shomade, acting associate professor of film and media studies, who joined Emory's Film and Media Studies faculty in 2016.
Widely regarded as one of the top scholars on race and representation on television, Smith-Shomade has authored two books on the subject: "Shaded Lives: African-American Women and Television" and "Pimpin' Ain't Easy: Selling Black Entertainment Television."
She comes to Emory after working at Spelman College, Georgia State University, University of Houston, Tulane University and a stint as a Fulbright Scholar researching and teaching at Obafemi Awolowo University in Ile-Ife, Nigeria. She also has worked in media production as a freelance producer and music researcher.
"For my entire career, I have been committed to examining, understanding, disrupting and disseminating ideas about black presences in visual culture," says Smith-Shomade.
"Dr. Smith-Shomade has immeasurably broadened the scope of what Film and Media Studies teaches and researches in multiple directions," says Matthew Bernstein, department chair. "Moreover, she brings a dynamic and lively teaching style to her classes which our students applaud. She is a first-class colleague; we are fortunate to have her on faculty at Emory."
Smith-Shomade's appointment to Emory bolsters a growing Film and Media Studies program, while also offering one of the nation's top scholars in race and media access to a diverse city that houses a booming film and television industry.
"Right now, I'm working on a book project that investigates the relationships between blackness, media (television, film and new media) and religion," says Smith-Shomade. "Atlanta provides me a rich landscape to tap into regarding both black religiosity and black media engagement."
An in-depth look at black television
This semester, Atlanta and Emory community members can take a master class from Smith-Shomade with her carefully cultivated Cinematheque selection and featured speakers.
Featuring non-fictional programming such as Ava DuVernay's 2016 documentary "13th" (Feb. 28) and episodes from ground-breaking television shows including "Roots" (Jan. 31), "Scandal" (Mar. 7) and "Good Times" (Apr. 11), the series will host nationally renowned television scholars as well as television writers, producers and showrunners to introduce and lead audience discussions.
Originally, Smith-Shomade hoped to sculpt the series entirely out of fictional narrative programming, but licensing restrictions prevented the screening of shows like "Atlanta," "The Cosby Show" and reality programming such as "The Real Housewives of Atlanta."
Smith-Shomade reimagined the series to include multiple documentary features that further contextualize the evolution of portrayals of African Americans on the small screen.
"I am actually quite pleased with the series' present articulation," says Smith-Shomade. "I think it allows for a more holistic thinking through of the relationships between black television programming and living while black."
"I am tremendously grateful for the support I've received from my department and additional university sources including a huge award from the Hightower Fund, a grant from the Center for Faculty Development and Excellence and support from both the African American Studies Department and the Theater Studies Program," says Smith-Shomade. "The scope of this series would absolutely not have been possible without their support."
All screenings take place at 7:30 p.m. in White Hall 208 and are free and open to the public. See the complete schedule for the series.  
---