In fiscal year 2017, Emory Healthcare provided $73.5 million in charity care, which includes care for patients with no health insurance, not even Medicare or Medicaid, and no resources of their own. The term also includes catastrophic care for patients who may have some coverage but for whom health care bills are so large that paying them would be life-shattering. Over this same time, Emory medical faculty also provided $24.6 million in unreimbursed care at Grady Memorial Hospital.
In addition to such care, Emory last year provided another $70.4 million in services to help improve access to care, advance medical knowledge, and relieve or reduce dependence on taxpayer-funded community efforts.
Stories of patients who benefited from this care as well as a tribute to the Emory teams that provide it can be found in the newly published 2017 Community Benefits Report of the Woodruff Health Sciences Center (WHSC).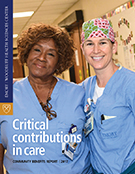 Critical Contributions in Care covers community impact of the entire WHSC, which includes not only Emory Healthcare, but Emory School of Medicine, Rollins School of Public Health, Nell Hodgson Woodruff School of Nursing, Yerkes National Primate Research Center, and Winship Cancer Institute, as well as a large presence at Grady, Atlanta VA Medical Center, and Children's Healthcare of Atlanta.
---