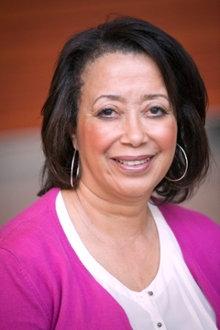 Angela Amar, PhD, RN, FAAN, was appointed dean of the University of Nevada Las Vegas (UNLV) School of Nursing by the UNLV Office of the Executive Vice President and Provost. Her term begins Jan. 1, 2018.
Amar is currently associate dean for undergraduate studies and chief diversity officer of the Nell Hodgson Woodruff School of Nursing at Emory University in Atlanta, where she leads all undergraduate programs, including pre-nursing courses and accelerated programs, for over 500 students.
Her visionary leadership at Emory University helped the school redesign its bachelor of nursing curriculum, increase enrollment in undergraduate nursing programs, secure designation as a National League for Nursing Center for Excellence in Nursing Education, and catapult the school's national licensure exam (NCLEX) pass rates above 98 percent across all undergraduate tracks this year.
"Dr. Amar has left a clear mark of progress on Emory's undergraduate nursing program," says Linda McCauley, dean of the Nell Hodgson Woodruff School of Nursing. "Her innovative teaching strategies, dedication to faculty and student leadership development, and collaborative educational partnerships brought academic excellence at the school to a new level. She will be greatly missed by Emory students, faculty and alumni, but will continue to shape nursing education and practice in profound ways in her new position." 
As dean for the UNLV School of Nursing, Amar will lead one of the university's longest running programs that educates nearly 300 undergraduate and graduate students each year within four degree programs.
"Angela is a successful leader, an award-winning author and an accomplished scientist," says Diane Chase, UNLV executive vice president and provost. "She brings with her great enthusiasm and wonderful ideas for how to move our School of Nursing forward. We are eager to welcome her to UNLV." 
Prior to joining Emory, Amar was the program director for the Advanced Forensic Nursing Program at Boston College from 2008 to 2012, during which time she also served as a tenured associate professor at the William F. Connell School of Nursing. 
Amar's clinical specialties are adult mental health and forensic nursing. She has dedicated her career to enhancing diversity in nursing leadership and to improving care and support for survivors of violence and trauma when they enter the health care system. Her research focuses on preventing dating violence and violence against women, which has been funded by multiple government agencies and foundations. Her work has appeared in more than 50 peer-reviewed articles and book chapters. During 2016, Amar received book-of-the-year honors from the American Journal of Nursing for A Practical Guide to Forensic Nursing, which she co-authored. 
As dean of the UNLV School of Nursing, Amar said that she plans to continue advancing programs that promote evidence-based practice and lifelong learning, foster leadership and increase diversity within the profession. 
"Nursing education is fundamental to improving the access to and quality of health care," Amar says. "As our nation's demographics shift, providing a pathway for lifelong learning and opportunities for seamless transition to higher degree programs will be essential to helping nurses meet the needs of an increasingly diverse population, function as leaders, and advance research. This is in perfect alignment with UNLV's Top Tier goals. I look forward to working with students, faculty, staff, alumni and School of Nursing leadership to advance the school's community impact, education and top-notch clinical programs."
Amar will replace Carolyn Yucha, who is retiring after leading the School of Nursing as its dean since 2004.
---