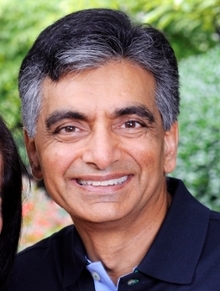 Lucky Jain, MD, MBA, has been named chair of the Department of Pediatrics at Emory University School of Medicine; chief academic officer of Children's Healthcare of Atlanta; and executive director of Emory + Children's Pediatric Institute.
Jain, who is the Richard W. Blumberg Professor, has served as interim chair of the Department of Pediatrics since July 2015. He joined Emory in 1994 as associate professor and was promoted to professor in 2001. Jain was a member of the inaugural class of the Woodruff Leadership Academy and received an executive MBA from the Goizueta Business School at Emory in 2004. In 2006, he was appointed medical director of Emory-Children's Center and executive vice chair of the Department of Pediatrics.
"Dr. Jain has been a visionary leader of pediatrics for the past two years, and his knowledge and experience will be essential as we continue to grow and develop the relationship between Emory and Children's Healthcare of Atlanta," says Jonathan S. Lewin, MD, Emory executive vice president for health affairs; executive director of the Woodruff Health Science Center; and president, CEO and chairman of the board of Emory Healthcare.
Jain received his medical degree and completed his residency at the University of Rajasthan in Jaipur, India, and his fellowship in neonatal-perinatal medicine at the University of Illinois at Chicago. He is a specialist in respiratory disorders of the newborn. His research focuses on the physiology of lung sodium and fluid transport, and on strategies to enhance lung fluid clearance, particularly in late preterm infants and those born by elective Cesarean section. His lab is credited with elucidation of the role steroids play in fetal lung fluid clearance and the resulting multicenter trial of antenatal steroid treatment in late preterm gestations.
"Dr. Jain is a tireless advocate for physician wellness, work-life balance, and compassionate patient and family care, and his passion and leadership will be critical as we strengthen our collaborative relationship with Children's," says David S. Stephens, MD, interim dean of Emory School of Medicine and vice president for research in the Woodruff Health Sciences Center.
In 2016, Jain was elected scientific chairman of the International Neonatology Association. He is editor of the journal Clinics in Perinatology and has more than 150 publications. He is a member of several national scientific organizations including the American Thoracic Society, American Physiologic Society, Society for Pediatric Research and American Pediatric Society.
Jain is married to Shabnam Jain MD, an Emory faculty member in pediatric emergency medicine.
---