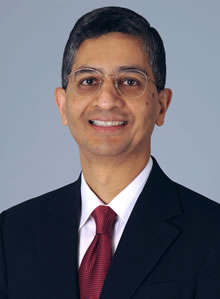 Emory University has appointed Vikas P. Sukhatme, MD, ScD, a distinguished physician-scientist, as the new Dean of Emory University School of Medicine. He also will serve as Chief Academic Officer of Emory Healthcare and as Woodruff Professor. Sukhatme will join Emory Nov. 1, 2017. Emory President Claire E. Sterk joined Executive Vice President for Health Affairs and Emory Healthcare CEO Jonathan S. Lewin and Emory Provost Dwight A. McBride in making the announcement.
Sukhatme is currently Chief Academic Officer and Harvard Faculty Dean for Academic Programs at Beth Israel Deaconess Medical Center in Boston and the Victor J. Aresty Professor of Medicine at Harvard Medical School.
"I am delighted to join President Sterk and Provost McBride in announcing this new appointment," says Lewin. "Dr. Sukhatme is a highly recognized and exceptional biomedical scientist, clinician, and teacher. I am confident that under his leadership, the medical school will continue its upward trajectory in reputation and impact and will further enhance the Woodruff Health Sciences Center's place as one of the world's premiere academic health centers."
Sukhatme's appointment is the culmination of a nearly year-long national search. He succeeds David S. Stephens, MD, who has served as interim dean and will continue his roles as vice president for research in Emory's Woodruff Health Sciences Center and as chair of the Department of Medicine in Emory University School of Medicine.
"Dr. Sukhatme's eclectic academic background as a basic science researcher, a clinician, and a translational scientist will be a major asset to the School of Medicine, the University at large, Emory Healthcare, and to the full array of diverse communities with which Emory interacts," said McBride. "We look forward with great excitement to the future of the School of Medicine under his stewardship."
"I am deeply honored to have been selected as the Dean of Emory University School of Medicine," Sukhatme says. "With a stellar leadership team, an extraordinary faculty, an outstanding cadre of staff, trainees and students, and distinguished alumni and supporters, Emory's future is bright. Now is the time to take on some of the most challenging problems in medicine and biology, and to tackle them through innovative, interdisciplinary approaches."
Sukhatme was born in India and raised in Rome, Italy. He completed a bachelor's degree and then a doctorate (ScD) in theoretical physics at Massachusetts Institute of Technology. In 1979, he received an MD from Harvard Medical School in the Harvard-MIT program in Health Sciences and Technology. Following his residency in medicine and a clinical fellowship in nephrology at Massachusetts General Hospital, he spent two years at Stanford in immunology research.
His first faculty appointment was at the University of Chicago, where he was also appointed an assistant investigator of the Howard Hughes Medical Institute. In 1992 he moved to Harvard Medical School and Beth Israel Deaconess Medical Center (BIDMC) as chief of the renal division in the Department of Medicine, and he subsequently received an appointment in the hematology-oncology division. He is also the founding chief of the Division of Interdisciplinary Medicine and Biotechnology at BIDMC. For eight years, he has been the Chief Academic Officer and Harvard Faculty Dean for Academic Programs at BIDMC.
Sukhatme's research spans numerous areas of medicine in both fundamental science and clinical care. He has over 200 scientific publications that have been cited more than 31,000 times. His longstanding interest in cancer currently centers around tumor metabolism and tumor immunology and on "outside-of-the-box" approaches for treating advanced cancer. He has conducted studies on genes important in kidney cancer and polycystic kidney disease.
Sukhatme's laboratory played a key role in the discovery of the cause of preeclampsia, a blood vessel disorder and a major cause of morbidity in pregnant women. His research also has provided insights into how blood vessels leak in patients with severe infections, and on how new vessels form to feed growing tumors. He has elucidated mechanisms by which statins can cause muscle damage.
Sukhatme is known to be equally passionate about teaching medicine and educating communities outside of medical school. He initiated a course to bring MD/PhD students up to speed as they returned to the clinic after their graduate studies, as well as a mini-medical school series for the general public, and one for industry scientists highlighting unsolved clinical problems. 
According to Alan Garber, provost of Harvard University and himself a physician, "Vikas is a superb researcher with remarkable breadth and sophistication, all in the service of improved human health. He has a deep, discerning intellect and is dedicated to the success of his colleagues and students. Emory is fortunate to have attracted him as dean."
Sukhatme also is an entrepreneur, having cofounded several biotechnology companies based on discoveries from his laboratory. Along with his wife, Vidula Sukhatme, he is co-founder of a not-for-profit organization, GlobalCures, to conduct clinical trials on promising therapies for cancer not being pursued for lack of profitability.
---