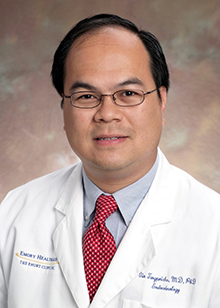 The Endocrine Society has released updated clinical guidelines for the treatment for transgender patients. They were published online yesterday and will appear in the October 2017 print issue of the Journal of Clinical Endocrinology & Metabolism.
The new Clinical Practice Guideline (CPG) focuses on the treatment for gender-dysphoric/gender-incongruent persons to develop the physical characteristics of the affirmed gender. It establishes a framework for the appropriate treatment of these individuals and standardizes terminology to be used by healthcare professionals.
"These are the major guidelines that most physicians use in the world to treat gender dysphoric and gender incongruent individuals. The guidelines include an expanded section on children and adolescents providing clearer guidance for physicians seeing pediatric patients in their offices," says Emory Healthcare endocrinologist Vin Tangpricha, MD, PhD, professor of medicine and director of the Endocrinology Fellowship Program at Emory University School of Medicine.
Tangpricha was a co-author of the revised guidelines, serving on an Endocrine Society committee to create the evidence-based recommendations. He has a special interest in the hormonal treatment of transgender individuals having cared for more than 400 people with transgender and gender non-conforming identity.
According to Tangpricha, gender dysphoric and gender incongruent individuals face discrimination from many people in society, including professionals in the medical community.
"These guidelines are important to continue to educate the medical community on a condition that is treatable with hormones and/or surgery and is associated with improved outcomes such as quality of life," Tangpricha says.
To view the Endocrine Society's CPG, please click here.
---