Learn about Emory resources during National Preparedness Month
By Kimber Williams | Emory Report | Sept. 17, 2017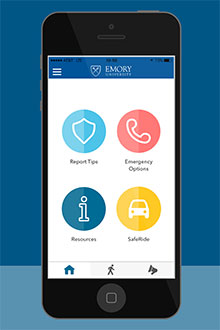 Downloading the free LiveSafe campus safety app is just one of the steps you can take now to be prepared for future emergencies.
If the widespread damage recently wrought by Hurricanes Harvey and Irma offers a lesson, it is the value of being prepared for an emergency well before it happens. 
Not all hazardous weather events will reach the level of a hurricane, but advance preparation — knowing what to do and even where to look for help and resources — can be key to minimizing danger and injuries.
The launch of a new academic year brings with it a reminder for the campus community to prepare now for the unexpected, from updating contact information within Emory's Emergency Notification Program or downloading the mobile LiveSafe app to learning where on campus to seek shelter during a storm. 
September is National Preparedness Month, scheduled each fall in partnership with the Federal Emergency Management Agency to help communities be better equipped for the risks of accidents and disasters. This year's theme is "Disasters Don't Plan Ahead. You Can."
Taking a few simple steps now to learn more about campus resources can make all the difference during an unforeseen disaster, stresses Alexander Isakov, executive director of Emory's Office of Critical Event Preparedness and Response (CEPAR) and professor of emergency medicine.  
"Nobody really knows how they would react in a crisis or emergency immediately evolving in front of them," Isakov says. "The preparedness and disaster resilience of our community depends, in large part, on the preparedness and disaster resilience of each of us as individuals."  
"Understanding the risks, being aware and dedicating even a little time to prepare for emergencies makes you disaster resilient and can save lives," he adds. 
A mobile safety solution 
For the campus community, a good place to start is by downloading Emory's personal safety mobile app, LiveSafe, says Sam Shartar, senior administrator for CEPAR.
Developed for smartphones and tablets, the free LiveSafe app provides a quick, convenient and discreet way for students, faculty and staff to communicate directly with Emory University public safety officials.
Key features of the app allow the campus community to:
Call or message Emory University Police — or 911 — quickly. If you choose, a location-tracking feature can immediately signal your whereabouts to public safety officials.
Report safety concerns, accidents or crime tips in real-time to Emory police via text, photos, video or audio. The "Report Tips" function also allows you to immediately engage in a live chat with safety officials, if you choose.
Navigate campus using a "SafeWalk" feature. The GPS-enabled location technology allows users to invite family, friends or colleagues to "virtually escort" them by following their location in real-time on a digital map. Alerts are sent when the user is delayed, has arrived or requests help.
Connect with SafeRide, a free shuttle service that allows you to reserve a ride from your dorm room, office or library if traversing campus at night or to request a safety escort.
Receive campus safety notifications and emergency alerts from Emory police.
Quickly access a range of important campus safety resources, including information about basic emergency procedures, health and wellness contacts, and resources to address sexual and relationship violence.
"People receive information in different ways," Shartar says. "This app allows for enhanced communication directly between the user and Emory police. For our campus community, it offers yet another important option in the public safety toolbox." 
The power of preparedness
At Emory, emergency resources are always a quick click away, handily compiled by CEPAR into two key documents: An online "Just In Time Guide" to campus emergencies and the Emory University Preparedness Checklist.
The preparedness checklist provides directions for enrolling or updating emergency contact information in order to receive alerts in the face of severe weather, industrial accidents or law enforcement events.
It also offers:
Basic safety information and reminders, such as a prompt to program phone numbers for Emory or Oxford College campus police departments — and adding an "In Case of Emergency" (ICE) number — into your personal mobile phone.
Suggestions for establishing a simple emergency communication plan, so family and friends have an agreed-upon way to make contact during a campus or regional emergency. 
Prompts for knowing how to exit buildings if a primary pathway is blocked and where to seek shelter during severe weather.
Handy contact information for campus emergency services, including health and counseling services, and the Emory Faculty Staff Assistance Program. 
To stay abreast of the latest campus emergency notifications, in addition to email alerts you can elect to receive personal text alerts by registering current contact information in Emory's Emergency Notification Program.
"Emergencies aren't just hypothetical situations, and preparedness is all about having the right information," Shartar says.
He suggests programming two "short codes" — 226787 and 678283 — into your list of cellphone contacts, along with unique ringtones, to quickly and easily identify an Emory emergency alert. 
"In the event of emergencies, when trying to let others know that you're okay, we suggest texting instead of talking," Shartar adds. "Phone calls take up a lot of bandwidth, whereas texting takes up much less bandwidth and still accomplishes the task."
Talk about it, plan now
For Emory faculty, staff and students, the start of a new academic year presents a good opportunity to become familiar with the University's emergency resources, Shartar says.
"Knowing the basics, what to do or where to go on campus, having a plan, going through the preparedness checklist, learning CPR or taking a first aid course — all of these actions can make a big difference during an actual emergency," he says.
"It could even offer a good team-building activity for your office or laboratory — knowing how to evacuate your building, where to seek shelter for bad weather, and knowing where the AEDs (automated external defibrillators) are in your building," he notes, adding that CEPAR can offer resources to assist.
To get your bearings, he suggests checking out the CEPAR website. Under the "Threat Assessment" tab, users can review contact information for a number of campus public safety resources and view a series of videos about "mitigating violence through compassion," including the "Run. Hide. Fight" video, which illustrates what to do in the event of an active shooter.
Just as people test the batteries in their smoke detectors annually, taking time to visit CEPAR's online "Just in Time" guide — available for Emory's Atlanta and Oxford College campuses — should be considered a yearly ritual, Shartar says.
The wide-ranging resource offers guidance on what to do in the face of a variety of emergencies, including power failures, water and gas leaks, medical emergencies, chemical spills or laboratory accidents, and severe weather and weather-related campus closures.
"It will get you thinking about what you could anticipate in the event of a tornado, a law enforcement event, or other emergency," Shartar explains.