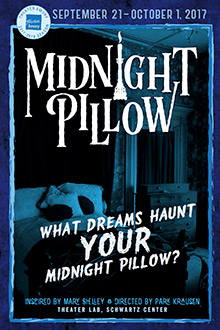 In describing her creative process writing "Frankenstein," Mary Shelley referred to the story as the "spectre which had haunted my midnight pillow." Theater Emory's "Midnight Pillow," running Sept. 21 through Oct. 1, brings 13 writers together to explore Shelley's enigmatic depiction of the artistic method in a collaborative work created and directed by Emory alumna Park Krausen.  
"Midnight Pillow" invites audiences into the bedroom as eight performers bring to life the linked writings of Fanny Britt, Shelia Callaghan, Andrea Cohen, Léonore Confino, Lauren Gunderson, Maria Headley, Cristin König, Nathalie Mason Fleury, Scott Turner Schofield, Awoye Timpo, Naomi Wallace, Madhuri Shekar and Marisa Wegrzyn.
This is the first production in Theater Emory's 2017-2018 season that in part responds to the 200th anniversary of "Frankenstein." FACE (Frankenstein Anniversary Celebration and Emory), a year-long university-wide celebration of the anniversary of the novel, kicks off Sept. 19 with the unveiling of a painting of Frankenstein's monster by renowned portrait artist Ross Rossin, Emory's 2017-2018 Donna and Marvin Schwartz Artist-in-Residence.
For "Midnight Pillow," Krausen, the driving force behind the project, commissioned writers from all over the world to construct monologues, scenes and short plays that consider these questions:
What happens when you are in the act of birthing or creating?
What happens when you refuse to create?
What keeps you up at night or rumbles in that liminal space between dreams and consciousness?
What happens when your creation betrays you or you it?
"I create dialogue between divergent art forms and take the opportunity to invite everyone to play — the often represented and often underrepresented," Krausen says.
After a decade serving as producing artistic director of Théâtre du Rêve, she describes her relatively new life as a theater director and the opportunity to work with Theater Emory as "daunting and exciting."
"I am thrilled to be returning to my alma mater where the idea of experiential learning, the exchange between students and professionals, is paramount," Krausen says.
Theater Emory presents "Midnight Pillow" Sept. 21-23 and Sept. 27-30 at 7:30 p.m. and Sept. 24 and Oct. 1 at 2 p.m. in the Theater Lab of the Schwartz Center for Performing Arts.
Tickets are $18 general admission, $14 discount category members, $12 industry and non-Emory students, $6 Emory students and are available through the Arts at Emory Box Office online or at 404-727-5050. For additional information on Theater Emory's 2017-2018 season, visit theater.emory.edu. 
---