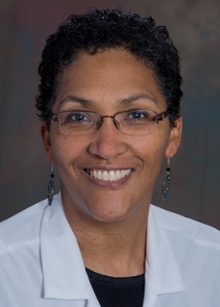 Across the nation, September has been declared Pain Awareness Month. At the Emory Pain Center, providers take this month to educate patients and the community about pain relief options without turning to prescription medications.
As the opioid epidemic continues to grow, alternatives to medications are more important now than ever.
"Our goal is to offer non-opioid and non-pharmacological treatments or therapies for  pain," says Anne Marie McKenzie-Brown, MD, associate professor of anesthesiology at Emory and director of the Emory Pain Center, located at Emory University Hospital Midtown. "There are now many alternative and complementary options to offer patients, and studies show they can be just as beneficial or better than prescription pain medications, but without the serious side effects of overuse and abuse."
According to a recent report by the National Academies of Sciences, Engineering and Medicine, drug overdose is now the leading cause of death from unintentional injury in the U.S., and most of these deaths involve an opioid. McKenzie-Brown was one of 18 experts selected to be a part of the committee that compiled this comprehensive report.
"We found we not only need to look at the way physicians treat pain, but also at patients' expectations in the way their pain is managed," explains McKenzie-Brown.
Physicians at the Emory Pain Center prescribe an array of pain control alternatives, and patients are showing great interest.
Some of those options include:
Massage therapy to improve pain, stiffness and physical function. Massage also has been shown to improve quality of life.

Acupuncture to stimulate certain trigger points within the body, most often by inserting thin needles through the skin. Acupuncture can be used in combination with other forms of treatment.

Alpha Lipoic Acid, an antioxidant and natural anti-inflammatory product that is found in many foods and is also made naturally in the body.

Turmeric, a plant related to ginger that is used as a dietary supplement for inflammation and other health conditions.

Spinal cord stimulation, an implantable device used to send electrical signals to select areas of the spinal cord for the treatment of certain pain conditions. The treatment is a consideration for people who have not responded to more conservative pain therapy options. Conditions include nerve pain, peripheral neuropathy (pain in the extremities), back and leg pain that persists after spine surgery and complex regional pain syndrome.

TENS (transcutaneous electrical nerve stimulation) Unit, which uses low voltage electrical current via electrodes applied to the skin to relieve nerve-related pain conditions.

Educational materials to assist in lifestyle management. Educational materials are given to patients about the role of obesity, smoking and sleep hygiene on chronic pain.

Behavioral therapy for patients who have pain associated with anxiety and depression.

Low-dose naltrexone for certain types of pain that is resistant to other therapies. Naltrexone at higher doses is used for addiction.  It is an opioid reversal agent, but studies show that much lower doses of the medication may be beneficial in treating pain.
During the month of September at the Emory Pain Center, a massage therapist has been on-site twice a week to provide free, 10-minute massages to staff and patients, alike. "Massage is a great way to reduce muscle pain and aches, as well as relieve tension," says McKenzie-Brown. "We wanted to offer this special treat to our staff and patients this month, and it is being well received. It is a tangible way of demonstrating medication-free pain relief."
All pain specialists at the Emory Pain Center are anesthesiologists. Many of them are involved in research and clinical trials at Emory that result in innovations and improved treatment for pain therapy.
For more information on the Emory Pain Center, visit: emoryhealthcare.org/centers-programs/pain-center/.
---