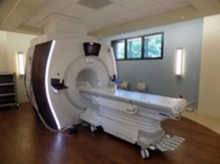 Patients now have access to a newly installed MRI suite at Emory Johns Creek Hospital (EJCH). The new GE Healthcare technology, known as the SIGNA Artist, offers improved image quality, higher efficiency, and provides results eight times faster.
"The state-of-the art technology not only means improved images, but will advance diagnoses and treatments," says Chrystal Barnes, CRA, CTRT, EJCH Director of Radiology.
"Our new MRI suite will cut time in half for patients," says Barnes. "A scan that would typically take us one hour will now take about 30 minutes."
The MRI has a larger diameter, soft lighting and soothing fans to help ease patient anxieties. The new suite also provides advanced noise-reduction technology that gives patients a quieter experience.
EJCH is also updating its existing MRI suite to the same technology as the recently installed machine.
To make an appointment in radiology and imaging services, call 678-474-8100.
---