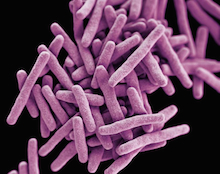 The National Institute of Allergy and Infectious Diseases has awarded a three-year $5 million grant to an international team of investigators to test the anti-cancer drug imatinib as a repurposed treatment for tuberculosis. The study will take place at Emory University in Atlanta, and in South Africa at the Aurum Institute's Tembisa Clinical Research Center in South Africa.
The study builds on the work of Daniel Kalman, PhD and colleagues at Emory and at the Center of Disease Control and Prevention, who showed that imatinib, known commercially as Gleevec, disrupts the machinery that tuberculosis bacteria exploit when they infect human cells. Imatinib is particaulry effective at low doses, where it additionally stimulates a host anti-pathogen immune response that the tuberculosis bacteria tries to suppress.
Imatinib is FDA-approved for use against chronic myelogenous leukemia and gastrointestinal stromal tumors. It was one of the first examples of "targeted therapy," aimed at specific genetic changes in cancer cells driving growth. Imatinib became available in generic form in 2016.
Kalman heads a team that includes Edmund Waller, MD, PhD, Cindy Giver, PhD., and Rabin Tirouvanziam PhD at Winship Cancer Institute and Emory University School of Medicine, Greg Bisson MD, PhD, at University of Pennsylvania, Robert Wallis, MD from the Aurum Institute in South Africa, Deepak Kaushal, PhD at Tulane University, Tawanda Gumbo, MD from Baylor and Helen Fletcher, PhD from London School of Hygiene and Tropical Medicine.
The investigators will assess the safety and immune effects of low-dose imatinib in healthy human volunteers, and then move to South Africa where the drug will be tested in combination with standard antibiotic regimens in patients with active TB.  Plans call for 60 patients in the United States and 195 in South Africa.
TB remains a major public health threat, killing 1.4 million per year, mostly in developing nations. The impact is especially severe in people who are HIV-positive.  Of additional concern, TB has evolved to become resistant to some or all available antibiotics, and about 400,000 per year die from infections caused by these strains.  Lancet Infectious Diseases reports that China, India, Russia and South Africa have the highest burden of multiple drug-resistant tuberculosis.
Because imatinib targets the host and not the pathogen, it will likely prove effective against antibiotic-resistant TB, and will not easily engender resistance itself. Kalman notes.
"There is an urgent need for new drugs to treat TB," he says. "We are fast approaching the day when all available antibiotics will prove useless. This study is proof-of concept for imatinib in antibiotic-sensitive TB. But if successful, our eventual goal is to use imatinib against antibiotic resistant TB. Having new immunomodulatory host-directed therapeutics that can complement antibiotics would be an important, timely and welcome addition to the anti-TB arsenal."
---