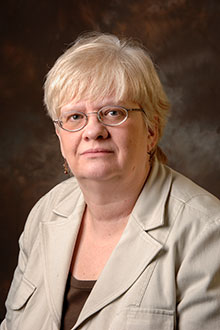 Lynna Williams, an associate professor of English and creative writing who was instrumental in shaping Emory University's acclaimed Creative Writing Program, died July 29 after a brief struggle with cancer. She was 66.
Williams arrived at Emory in 1990, the first year the Creative Writing Program was offered, and went on to serve as the second director of the fledgling program, guiding it through its early foundational years.
She is also credited with steering the program toward the hires of several award-winning faculty, including Pulitzer Prize-winning poet Natasha Trethewey, who would be named the 19th U.S. poet laureate in 2012, novelist Joseph Skibell and playwright and novelist Jim Grimsley, who would form the early core of the program that would capture attention for the strength of its classroom offerings.
In addition to her leadership within the university, Williams is remembered as a gifted writer of short stories and essays and for her honesty and humor, generous mentorship, and her dedication to students and colleagues. 
"Creative Writing at Emory will miss Lynna Williams," says Jericho Brown, associate professor of English and creative writing, who was recently named director of the program. "She helped to build the foundation of our program, and she believed in our students as talented artists.
"We have her legacy as an inspiration as we continue to encourage and develop young writers," he says. "In my own personal reflections of Lynna, I remain awestruck by her as a supportive colleague and dedicated teacher. I hope to give as much."
From the newsroom to the classroom
Williams began her career as a journalist after earning a bachelor's degree from the University of Missouri School of Journalism. She worked first as a political reporter in Texas, then as a reporter and political speechwriter in Minnesota.
Known for her keen wit — both in and outside the classroom — she also performed briefly as a stand-up comedian before she began writing fiction. Her first short story, "Last Shift at the Mine," addressed unemployment on the Minnesota Iron Range and won a Loft-McKnight Award and a Loft Mentor Series Prize.
"She lived a life of tenacious honesty, both in her writing and her personal relationships," says Grimsley, professor of practice in creative writing, who recalls her skill with jokes during campus meetings and her caring support of those closest to her. "I was lucky to have her as a friend and colleague … We were better for Lynna Williams' presence among us, and we will be diminished in her passing."
Williams returned to academia to perfect her craft and received a masters in fine arts in fiction from George Mason University in 1990. Since then, her short fiction has appeared in the Atlantic Monthly, Lear's, the Oxford American, Crab Orchard Review and other esteemed literary magazines.
Her short story, "Sole Custody," was nominated by Atlantic Monthly for the National Magazine Award in Fiction, and she was also one of four writers featured in the magazine's cover story on "New American Voices" in contemporary fiction.
Five of her stories have been included in the "100 Other Distinguished Stories" list in the annual "Best American Short Stories" anthology. Her first collection, "Things Not Seen and Other Stories," was a New York Times Notable Book of the Year.
She won the Dobie Paisano Fellowship from the University of Texas and the Texas Institute of Letters. Her essays have won prizes from the Chattahoochee Review and the Bellingham Review, and were anthologized in "Sleeping with One Eye Open: A Survival Guide for Creative Women" (UGA Press), "From Mothers to Daughters: I've Always Meant to Tell You" (Simon and Schuster) and other collections. She was also a frequent book reviewer for the Chicago Tribune.
One of her most important contributions to Emory followed in the wake of the resignation of the first Creative Writing Program director, when Williams arrived on campus to learn that she was to be appointed program director. She led the faculty through the transition period, carefully evaluated the program's needs and regularized its procedures. She also wrote the majors handbook and served as the honors program faculty coordinator and the PACE faculty liaison.
"Lynna was my colleague and an office neighbor when I arrived at Emory in 1998," recalls Michael A. Elliott, dean of Emory College of Arts and Sciences and Charles Howard Candler Professor of English.
"Her profound dedication to her students and her sharp sense of humor both made an immediate — and lasting — impression on me," he says. "Like many others at Emory, I feel indebted to Lynna for all of her contributions to Creative Writing, and lucky to have known her."
Caring mentor, gifted colleague
At the time of her death, Williams was working on a new story collection as well as an essay collection that grew out of a year spent teaching English to a group of Kurdish women in a small Georgia town. 
Trethewey, who served as director of the Creative Writing Program before leaving to join Northwestern University's English department this fall, says she will remember Williams as an extraordinary mentor. "Along with guiding me in navigating the university and developing my teaching skills, she also showed me paths into my own work," she says. 
While Trethewey was working on her award-winning collection "Native Guard," she met Williams for lunch. "There was a paper table cover and, for some reason, I wrote down the title and began to illustrate my thinking about the book by drawing around the words," Tretheway says. 
"It was the kind of talk you have with someone who listens carefully — asking important questions, pushing you to articulate what you'd not said out loud before, and leading to new insight, of which you might forget the details later. Lynna was such a brilliant, thoughtful and deeply engaged colleague that she would not let me forget."
The next day in her mailbox, Trethewey found a card from Williams. "Without my noticing, she had torn away the paper on which I had written and drawn, then taped it into the card with a message," she recalls. "I kept it on my desk as I wrote, and her words of encouragement stay with me now.
"Every time we talked was like that: I took away something invaluable. The Creative Writing Program is her legacy and I am lucky to have been her colleague all these years."
Williams is survived by her parents, George and Dorothy Williams, and her brother Marty Williams and sister-in-law Terrie Williams, all of Missouri. Memorial contributions may be made to the American Civil Liberties Union or Hospice Atlanta Center.
Editor's note: Jim Grimsley and Kimber Williams contributed to this article.
---