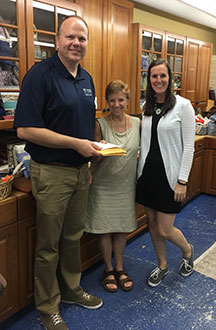 Emory students participating in the "Don't Dump It — Donate It" recycling program as they moved out of residence halls last month turned their used books, clothing, furniture and housewares into support for a local charitable non-profit, re:loom.
By donating used items, students also helped keep hundreds of thousands of pounds of discarded material out of local landfills, which supports Emory's new waste diversion goal of 95 percent by 2025, says Deena Keeler, assistant director of auxiliary services for facilities management in the Division of Campus Services.
"This year, we were able to collect an estimated 330,000 pounds of donations, which has been our strongest donations drive over the last nine years," Keeler says.
Sponsored by Emory Recycles, Emory Sustainability Initiatives, Emory Campus Services and Emory Residence Life and Housing, the donation program encouraged students who were moving out to donate unwanted items to support re:loom, a program of the Initiative for Affordable Housing (IAH), a Decatur-based nonprofit that has been supported by students through Volunteer Emory in recent years.
Founded in 1990 with one home and one homeless family, IAH's mission is to provide permanent, affordable housing to homeless and low-income families in metro Atlanta. Under the IAH, re:loom serves as a holistic social services program that empowers individuals to reach personal goals and achieve independence.
Donated student items were sold through Emory Surplus Properties. Earlier this month, proceeds from the sale, which raised $2,267, were presented to re:loom Executive Director Lisa Wise, Keeler says
"After touring the re:loom facility in Decatur, I am proud to see the impact that Emory is making in our community," says Jonathan Cooper, Emory's director of housing facilities and operations.
"Through the generosity of our residents and the hard work and dedication of our campus partners, we truly are making a difference," he says.
---