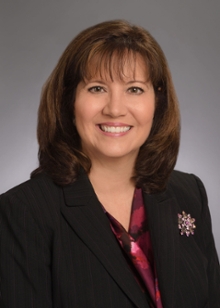 Victoria Jordan, PhD, MBA, has been named the corporate director of quality at Emory Healthcare, and the director of performance improvement and analytics for the James Cox Kennedy Initiative for Patient-Centered Care.  
In her role as corporate director for quality, she will develop, plan, coordinate and implement quality clinical improvement efforts across Emory Healthcare. This includes strategic oversite of quality initiatives across all of Emory's hospitals, its many primary care clinics and specialty clinics.  
In her position with the Kennedy Initiative for Patient-Centered Care, a new role, Jordan will lead the effort to define and operationalize the vision of expanding performance improvement, while providing quality education and training to staff. A $25 million gift over five years from the James M. Cox Foundation is launching new patient-centered care models at Emory designed to improve patient experiences and outcomes. Prostate cancer care is the initial clinical focus of the initiative.   
Jordan came to Emory from M.D. Anderson Cancer Center in Houston, where she served as executive director of Strategic Management and Systems Engineering. There, she led quality/systems engineering, strategic planning and management and clinical informatics in performance improvement. Her efforts in process and system improvement led to the development of methodologies in safety, timeliness, effectiveness, efficiency, equity and patient-centeredness.  
"Victoria Jordan's expertise in quality control, process optimization, patient flow and Lean analytics capabilities will be instrumental in these roles in the Office of Quality and with the Kennedy Initiative for Patient–Centered Care," says William Bornstein, MD, PhD, chief medical officer and chief quality officer for Emory Healthcare. "We are thrilled to have her onboard, and look forward to her guidance in these important areas of focus."  
Jordan received her PhD from Auburn University in Industrial and Systems Engineering, with an emphasis in applied statistics. She holds an MBA from the Ohio State University, an MS in Industrial and Systems Engineering from Auburn University and a BS in statistics, with minors in computer science and mathematics from the University of Kentucky. She is a member of the American Society for Quality and a fellow of the Institute of Industrial and System Engineers. She is also a Six Sigma Black Belt, certified in medical quality.                                                            
"I'm excited about the opportunity to work with so many talented professionals to continue to improve the patient experience at Emory and improve the lives of our fellow employees," says Jordan. "My involvement in the Kennedy Initiative is especially exciting because it provides us with opportunities that many medical centers do not have. My first task is to improve the 'systemness' across our operating units with respect to patient safety, regulatory readiness, metrics and reporting and process improvement, while building process improvement capabilities through the Kennedy Initiative."
---