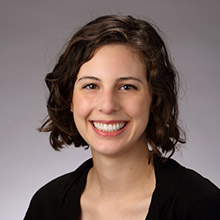 Marta Stevanovic, a third-year student and Robert W. Woodruff Fellow at Emory University School of Medicine, has been selected by the Howard Hughes Medical Institute (HHMI) as one of 79 Medical Research Fellows. She will spend her fellowship year at Keck School of Medicine of the University of Southern California and the University of California Santa Barbara. She will be mentored by Mark S. Humayun MD, PhD, and Dennis O. Clegg PhD, leading researchers in retinal disease.  
Stevanovic will use her fellowship year to study dry age-related macular degeneration (AMD), a leading cause of blindness. In dry AMD, there is a degeneration of a cell layer known as the retinal pigment epithelium. Her research will focus on developing a protocol to generate retinal pigment epithelium from stem cells. Stevanovic hopes that one day her research will be able to restore vision to people affected by dry AMD.
Stevanovic's fellowship is being co-sponsored by the Foundation Fighting Blindness (FFB), which is the world's leading private funder of retinal disease research. FFB is a driving force behind progress toward cures for retinal disease.  
"I feel very honored to receive this award and am excited to become a part of a community of scholars who are passionate about medical research," Stevanovic says.
The HHMI Medical Research Fellowship Program chooses exceptional medical, veterinary and dental students to spend a year conducting rigorous, mentored biomedical research at one of 32 research institutions throughout the United States. Each medical fellow receives $43,000 in grant support, and fellows are eligible to apply for a second year in the program.
"It's an extraordinary opportunity for future physicians, veterinarians, and dentists to explore the intersection of medicine and scientific discovery, and we hope that each student comes away further empowered to pursue a career as a physician-scientist," says David Asai, senior director in science education at HHMI.
The Medical Fellows Program was first launched 28 years ago and has helped more than 1,700 students. The fellows have multilevel mentoring opportunities, connecting with alumni fellows, early-career faculty and senior investigators to participate in seminars and to learn from physician-scientists at various career stages.
---