The Japanese Minister of Health, Labour and Welfare, His Excellency Yasuhisa Shiozaki, and 11 colleagues, from both the Japanese Ministry of Health and the Consulate General of Japan, visited Emory University Hospital on May 4. Their goal was to learn more about infectious disease preparedness and planning, with a focus on global health.
Leaders from Emory University Hospital met with the Japanese contingency to discuss Emory's preparedness efforts after the hospital cared for four patients diagnosed with Ebola virus disease in 2014. The group also toured Emory's Serious Communicable Diseases Unit (SCDU), the isolation unit where the four patients were treated.
"Because our isolation unit has been functional since 2002, we were well rehearsed and trained to care for these patients with confirmed Ebola virus disease," Bruce Ribner, MD, medical director of the SCDU, explained to the group. "We felt we could provide a safe environment for these patients, our staff and physicians, as well as other patients in the hospital."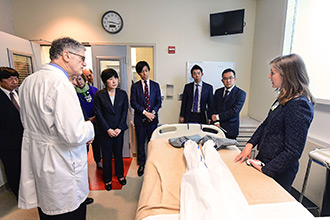 The Japanese Minister of Health and his colleagues toured Emory's Serious Communicable Diseases Unit to learn more about caring for patients with highly infectious diseases.
Emory's Serious Communicable Diseases Unit opened in conjunction with the Centers for Disease Control and Prevention (CDC) 15 years ago to care for CDC employees who might become infected with dangerous pathogens while working an outbreak in another part of the world or while testing samples much closer to home.
Minister Shiozaki and his team asked infectious disease specialists Ribner and Colleen Kraft, MD, specific questions about Emory's protocols and procedures on treating patients with highly communicable diseases. Much of the discussion centered on caring for patients in the isolation unit, conducting lab work and handling patient waste.
"Collaborating with international health professionals and sharing the knowledge we have gained about Ebola virus disease with others is critical, as communities all over the globe ready themselves for what may be the next outbreak," said Kraft, associate professor of pathology and medicine (infectious diseases) at Emory, who cared for the Emory patients with Ebola. "The most important investment we can make for preparedness is to foster team unity and drill frequently," she told the group.
The Japanese contingency also learned about Emory's lead role with NETEC, the National Ebola Training and Education Center. Funded with a $24 million grant from the CDC and the Office of the Assistant Secretary for Preparedness and Response through the U.S. Department of Health and Human Services, the center performs hospital site visits throughout the U.S. and conducts education and training courses. Additionally, NETEC is building a special pathogens research network with other centers across the country to investigate emerging infectious diseases. The University of Nebraska Medical Center in Omaha and NYC Health + Hospitals/Bellevue in New York City are co-leads in the grant.
---