School of Nursing faculty member named associate dean for graduate education
Woodruff Health Sciences Center | April 14, 2017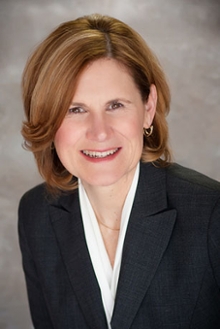 Nell Hodgson Woodruff School of Nursing faculty Kristy Martyn, PhD, RN, CPNP-PC, FAAN, has been appointed associate dean for graduate education. In this role, Martyn will direct academic and administrative functions for the School of Nursing's graduate programs and will advise senior leadership on curriculum, program planning, and student affairs. Martyn joined the School of Nursing faculty in 2013 and previously served as assistant dean for clinical advancement and director of the school's Doctor of Nursing Practice program.
"Dr. Martyn's leadership as assistant dean has elevated the School of Nursing's Doctor of Practice program," said Linda McCauley, PhD, RN, dean of the Nell Hodgson Woodruff School of Nursing. "Her dedication to nursing education and her outstanding accomplishments make her an excellent choice to fulfill this role."
Martyn is a Pediatric Nurse Practitioner (PNP) and Family Nurse Practitioner (FNP) with more than 35 years of experience. She is nationally recognized for her research in child/adolescent health. She pioneered an innovative approach using event-history calendars to promote self-care and responsible sexual behaviors in adolescents. Her research has been integrated into more than 30 settings nationally and internationally.
Dr. Martyn has received many honors and recognitions for her work including induction into the American Academy of Nursing, one of the highest honors in nursing. She is a member of the inaugural American Association of Colleges of Nursing (AACN) Health Policy Advisory Council and the National Association of Pediatric Nurse Practitioners (NAPNAP) Research Committee. She is an editorial board member for Qualitative Health Research, Global Qualitative Nursing Research, Journal of Pediatric Health Care and Journal of School of Nursing. Additionally, she was a board member of the National Organization of Nurse Practitioner Faculties (NONPF). In 2014, Martyn earned the 2014 Excellence in Clinical Writing Award for her article, "The Pediatric Nurse Practitioner Workforce: Meeting the Health Care Needs of Children" by the Journal of Pediatric Health Care.