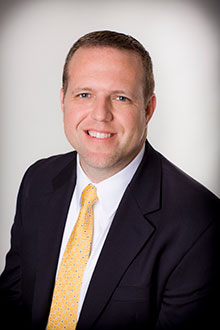 For more than a decade, Michael Kloss has been the guiding force behind Emory's highest-profile events: Commencement, visits from the Dalai Lama and other distinguished speakers, and most recently, the inauguration of Claire E. Sterk as the university's 20th president.
Now Kloss is bringing his leadership and organizational skills to a new role as chief of staff for the Office of the President. He will also serve as director of protocol at Emory and a senior adviser to the president.
Announcing his promotion, Sterk described Kloss as "a master of logistics, a wizard at organization, and a planner who knows that magic is in the details." 
Since joining Emory in 2005 as the university's first chief of protocol, Kloss has led an events team that produces more than 100 events annually. In 2007, 2010 and 2013, he produced the award-winning series of events known as "The Visit" featuring His Holiness the XIV Dalai Lama in his capacity as Presidential Distinguished Professor at Emory. 
In 2008, Kloss produced Emory's $1.6 billion campaign kickoff gala events, including writing and directing Enquérir, an original Cirque du Soleil-style production, which earned the International Special Events Society award for Best Entertainment Production. In 2012, he was honored by Event Solutions Magazine as Organizational Event Planner of the Year.
As chief of staff, Kloss will work to ensure outcomes for the planning and implementation of projects, programs, events and activities, and establish procedures for daily operations of the Office of the President.
The most exciting part of his new role, Kloss says, is the opportunity to "develop a new position — for the second time."
"Just as I had the wonderful opportunity to develop the first University Events office, the role of chief of staff is a new position that will develop organically over time," he explains. "I am excited and feel privileged to have a front-row seat to witness and support Dr. Sterk's presidency."
A wide variety of constituencies reach out to Sterk's office each day for information, deeper engagement and solutions, Kloss notes.
"Similar to spending many years welcoming guests to events, I look forward to continuing to refine the presidential standard of hospitality for each person who reaches out to the president," he says. "Likewise, I look forward to working with the president's office team to connect with and communicate the work of the president to the campus and broader community through events, programs and social media."
As director of protocol, Kloss will continue to provide leadership and insight to key university events, while turning over the direction and execution of such events to the staff to the University Events staff, which is also part of the Office of the President.
"I am so proud of the work that they do, and I can't wait to see what exciting event innovations are in our future," he says, praising "the collective work of countless individuals contributing their talents and creativity — often beyond their job description — to make it possible for Emory to welcome thousands of guests each year.
"Whether they are researching the perfect dessert to serve the Dalai Lama, hand carving a detail on a new lectern, or conducting a symphony of leaf blowers to dry chairs on Commencement morning, Emory is filled with talented professionals who work together to let Emory shine."
That teamwork and spirit, Kloss says, it what keeps him inspired and engaged as an Emory employee.
"Emory is a brave, bold place that isn't afraid to 'do the right thing' even when there may be compelling reasons to take a path of less resistance," he says. "I am inspired by the passion and dedication of staff and leadership of Emory, and their work makes me always look forward to help facilitate the 'what's next' for this special place."
Kloss holds a BA in honors liberal arts from the University of Central Florida and an MFA in writing for the screen and television from the University of Southern California.  Georgia Trend Magazine honored him on its 2016 "40-under-40" list, which recognizes the state's "best and brightest in business, government, nonprofits, science, healthcare and education."
---