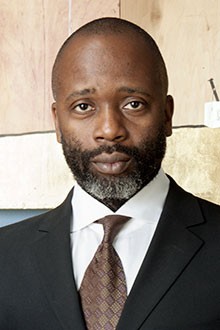 For the past year, performance artist, sculptor, professor, urban crusader and arts luminary Theaster Gates has been in conversation with Emory and the Atlanta community about the role engaged citizens and artists play in preserving communities of color.
Gates' residency began with "Black Spaces," an electrifying Goodrich C. White Lecture he delivered to a packed house in the Schwartz Center for Performing Arts on Feb. 3, 2016. He has also joined a public conversation on art and activism with Stuart A. Rose Library director Rosemary Magee and a panel discussion with local artists at the 2016 Decatur Book Festival. 
On April 18, Gates' residency at Emory concludes as he returns to campus to deliver "The Art Sermon," a response to work created by Emory students from the integrated visual arts co-major (IVAC) senior seminar, a class where he served as guest lecturer this past September. Like "Black Spaces" — a talk he peppered with jokes and singing, enthralling the room before challenging it with tough questions on race and community — "The Art Sermon" promises to be more performance piece than lecture.
Gates, whose exhibition "The Minor Arts" opened this month at the National Gallery of Art in Washington, has dedicated the bulk of his work as an arts activist to reimagining ways to invest in the people and places society has overlooked.
A Chicago native, he founded the grass-roots revitalization project "Rebuild Foundation," through which he transforms vacant buildings on Chicago's South Side into beautiful and affordable living and cultural spaces — creating what he calls "altars," places where a community can honor the past while building an aesthetic future that doesn't sacrifice its authenticity.
This forward-thinking approach inspired instructors to invite Gates back to campus this past September to engage with students in the IVAC senior seminar. 
"Because the collections in the Rose Library are so rich and filled with tremendous possibilities for future research, the leadership wanted to develop a residency program to assist the work of artists seeking inspiration from the collections of Alice Walker, Salman Rushdie, Mari Evans, Jesse Peel, Camille Billops and James Hatch, and others," explains Pellom McDaniels, curator of the Stuart A. Rose Manuscript, Archives and Rare Book Library's African American Collections. 
"Our vision has been to provide artists with resources to inspire their work and productivity, while providing a space for exploration, discussion and sharing with students, staff and faculty," McDaniels notes. "The IVAC course represented the perfect opportunity to test our concept." 
'He revolutionized how I approach art'
Students in the senior seminar, led by instructors Leslie Taylor, professor of theater studies, and Kieran Moore, lecturer in visual arts, were assigned different chapters in a sermon written by Gates and asked to explore the chapter's concept, making use of the Rose Library's archives in whatever way they saw fit. The open-endedness of Gates' assignment, while challenging, pushed the students to find their own voice in the echoes of the past.
"In art classes, you are assigned the style, the subject, the material. Theaster didn't operate like that. He gave a single thread and told you to pull," says Georgia Clark 17C. "He didn't care how, why, or where you ended up. I loved it. He revolutionized how I approach art." 
McDaniels says Gates provided a unique classroom experience.
"As an artist, activist and thinker with rootedness in African American culture and even deeper connectedness to the people who make up the African American community, Theaster Gates brought a wisdom to the classroom that the IVAC students were not expecting," McDaniels says. "The ease with which he communicated to each of them separately and as a group was admirable.  He made himself accessible to their questions and concerns.  He challenged them by making them uncomfortable.  He forced them to think outside of the box, and praised them for their efforts." 
The treasure hunt in the Rose archives guided IVAC seniors to surprising sources of inspiration. Explains Bethany Studnicky 17C, "Theaster gave me the phrase 'room for god' and I ended up digging through boxes of punk rock and roll paraphernalia, obituaries and poetry from World War II."
Clark's assignment, "landscapes," led her to the African American collections' images of lynching in America, a profound and difficult research project with a surprising result: She now works in the Rose Library as a student employee. "How can we improve our future if we don't remember how much we messed up in the past?" she says. "Now I spend time educating people on archives, so that we can have a better tomorrow."
Tanisha Raj 17C found her artistic vision permanently altered.
"I was given the color red. Theaster was not interested in our surface level understanding of our topics; he pushed us to keep thinking from every perspective," she says. "Theaster has inspired me in many ways, not just in my creative process, but in approaching the simplest of things, like the color red, with new appreciation."
A broad, lasting impact
Gates' impact on the inaugural class of IVAC graduates will be felt long past their time on campus, not to mention the mark he has left on the Emory community and Atlanta at-large, McDaniels says.
"Theaster Gates' residency and series of talks in Atlanta have been inspiring to students, artists and members of the greater Atlanta community, who see the value in working to improve society through local initiatives," he explains. 
After the residency culminates with the April 18 event, McDaniels hopes that the reverberations of Gates' message will lead students and community members alike to search for answers in Emory's archives.
"If there is anything to be learned from the archives in the Rose Library, it is this: Each of our stories matters. However, if we want to change the world, we need to 1) take on an initiative that we feel passionate about; and 2) find collective ways to speak truth to power."
---