A unique Emory College fellowship program has built an intellectual community of undergraduates who are leading fellow students in how to make sense of their education as they head off into the world.
Now in its second full year, the Interdisciplinary Exploration and Scholarship (IDEAS) Fellowship takes the College's commitment to an intensive liberal arts education beyond increasing students' breadth of knowledge and into synthesizing what they have learned.
"I was in conversation with a medical doctor who said he loved his liberal arts education, but he never felt it came together as a coherent whole. IDEAS seeks to address that," says Kim Loudermilk, the IDEAS director, senior lecturer in the Institute for Liberal Arts (ILA) and director of the Program in American Studies.
"Another student said he had been a leader in college his whole life but IDEAS was the first time he felt like an academic leader," she adds. "These are active learners, who are really engaging with the idea of what it means to be a scholar."
The fellowship has expanded from its pilot program of 12 students in 2015 to 30 members this year. The program received 80 applications for just 18 openings in the last application period.
The fellowship is part of an overall ILA effort to showcase the values of the liberal arts – critical thinking, tackling different perspectives – and to encourage thinking across and between disciplines. It also builds a coalition of students who can engage in explaining how a liberal arts education informs their planned professions.
Farah Al Chammas, a sophomore Woodruff Scholar majoring in interdisciplinary studies and anthropology, became interested in IDEAS after becoming discouraged shadowing physicians. She was nearly pushed away from her plans to be an endocrinologist when she saw the lack of a holistic approach to patients. IDEAS, she says, gave her the space to be encouraged about a different approach.
"It's a great approach, to think about something from your perspective, then from another perspective, then another perspective," Al Chammas says. "I want to challenge myself, challenge my own biases, to consider everything that I can."
Fellows meet for weekly luncheons to debate current issues and collect ideas from one another. They have partnered with TableTalk to host a weekly coffee hour with faculty members available to chat with students.
They also plan events such as the Best of Emory, which provides a platform for students to discuss their favorite courses just before registration, so that others can get class recommendations.
"You don't grow up dreaming of working in mental health policy," says Hannah Heitz, a senior psychology and human health major who now plans just that career.
"IDEAS is about exposure to other classes, topics and people that open your experience," adds Heitz, who came to the fellowship after the Summer Enrichment Program on health care inequalities at the University of Michigan.
Bridging disciplines
Fellows also sponsor "sidecar classes" as a way for other students to explore the intersection of disciplines. The students serve as teaching assistants for the sidecars, bringing together two faculty members to lead a one-credit course on the areas where their work overlaps.
Previous sidecars have linked a theater course with emergency medicine to "read the scene" in an emergency room, and linked a bioethics course with a religion course on Buddhism to explore the ethics of the Dalai Lama. 
With majors in economics and quantitative sciences, junior John Wang was an unlikely teaching assistant for Bodies in Space, the sidecar this spring that focused on the physiological process by combining professors from biology and dance.
In a recent class, students were instructed to walk around the room with their eyes closed, with the goal to avoid bumping into each other. Students had to rely on the wind created while brushing past one another, or the heat from each other's bodies, to understand how to extend their spatial awareness beyond just vision, Wang says.
"With IDEAS, I feel like I am the dumbest person in the room, which is good," he says. "The rich conversations and discussions blow me away with seeing how everyone else's mind works – especially someone with a different academic background." 
Loudermilk says such exchanges allow faculty to learn from students as much as students learn from professors. It also gives IDEAS fellows the skills to take what they learn in IDEAS to other students.
"It's not an opportunity undergraduates get very often, to have that agency to learn and to teach others," Loudermilk says. "I so enjoy working with these students because they understand that, and they become catalysts to bring these ideas out into the community."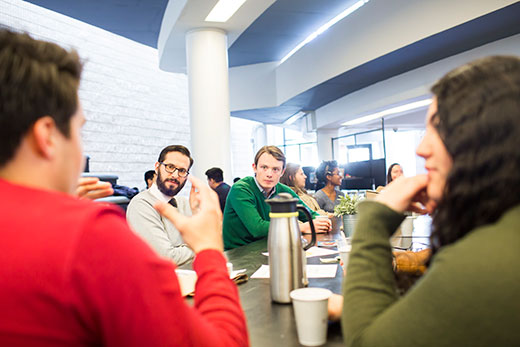 Ben Hertzberg, a visiting professor in political science, and Emory College senior Hugh McGlade listen to a debate at a recent coffee hour.
Conversations, coffee flow at weekly professor-student mixer
The back-and-forth started with a common question as hate crimes are on the rise in America: What can be done to understand someone else's point of view, especially someone in a marginalized community? 
"The best thing you can do is narrow the distance," Carlton Mackey says. "The closer you get to a person, the more you can understand their nuances."
Yasmeen Shahout nodded as she listened. She recalled meeting a woman who proudly said she'd never met a Muslim and wasn't sure she would want to anyway. Shahout was matter-of-fact in informing her new friend she now knew a Muslim – and the pair remain friendly. 
"People have the ability to be transformed," Shahout tells Mackey. "I had to explain to her, there is no one I hate in this world more than Muslim terrorists because that's what people see, and only that. And that is not me."
The conversation could have been part of any campus lecture. The striking part of this exchange was that it was part of the weekly professor-student coffee klatch, Professors at Kaldi's Getting Coffee.
An initiative of the IDEAS Fellowship program and TableTalk, the meeting aims specifically to draw Emory College professors and students who might not otherwise meet to talk about their specialties and interests.
Mackey is director of the Ethics & the Arts program at the Emory University Center for Ethics. Shahout is a first-year Woodruff Scholar majoring in anthropology and human biology, very different coursework from the film and media studies courses that Mackey teaches. 
"This is where you can talk to professors you may never have, to get more information and perspective about what you study or what you care about," says Hugh McGlade, a senior majoring in history and international studies who came up with the coffee hour with friends in 2015.
Every school week since, two or three professors from across disciplines meet with students at a large table at the Kaldi's in the Dobbs University Center. In his session, Mackey was joined by political science professor Thomas D. Lancaster and Giacomo Negro, an associate business professor.
Previous weeks this term have included professors from Spanish to physics and topics as far ranging as why Russia is seen as a threat to American interests to the moral and financial considerations of not having a car.
Mackey's exchange with Shahout began with him talking about his movement, Black Men Smile, created following the 2014 death of Michael Brown.
As Mackey explained the unique opportunity that Emory has given him to combine his artistic projects and social interests, those at the far end of the table debated the merits of globalization. Lancaster, whose scholarly work has focused on comparative politics and political institutions in Western Europe, discussed the rise of nationalism to combat global liberalism.
But he spoke just as passionately about a course he took in Boston with one of his daughters. The timed final exam in his bartending course, to mix 40 different drinks and match them with their glass and garnish, was among the most difficult he'd ever taken.
"You have to like the diversity of the concerns, interests and opinions," says Jonathan Kaminski, the junior economics major who has organized the weekly events this year. "It's just a mush of information that will stick with me that I'll take and use in other conversations, maybe the rest of my life. It's a unique type of education."
---