Emory alumnae help shape National Museum of African American History and Culture
By Maria M. Lameiras | Emory Magazine | April 3, 2017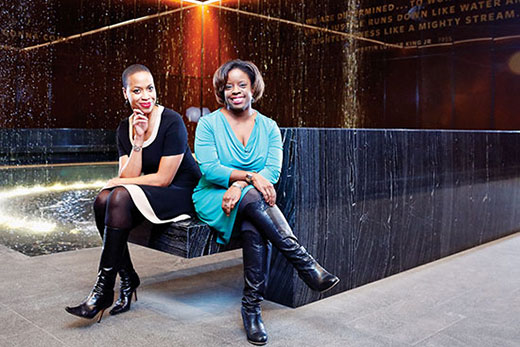 Rhea Combs (left) and Michelle Joan Wilkinson bring perspectives born of literature, film, and women's and Africana studies to their roles. Photo credit: Jonathan Timmes for Emory Magazine
In September, the National Museum of African American History and Culture (NMAAHC) opened on the National Mall in Washington, D.C., after decades of voices calling for a space dedicated to the complex, painful, inspiring, and evolving story of African Americans. 
Emory alumnae Michelle Joan Wilkinson 97G 01PhD and Rhea Combs 09PhD are curators at the new museum, contributing their knowledge of African American art, media, and history to the space, which has already had a profound impact on visitors.
Wilkinson works on projects related to contemporary black life and is cocurator of two inaugural exhibitions at the NMAAHC: A Changing America: 1968 and Beyond and A Century in the Making: Building the National Museum of African American History and Culture, which chronicles the history of the museum itself and the challenges of bringing it to life.
"We knew we had to tell the story of how we came to be. Instead of a plaque about it, we wanted to talk about how we did it, why the building is where it is, and why it looks like it does. It is the creation story about the people who were involved in getting the legislation passed to make it happen," she says, adding that efforts to establish a memorial to the African American experience in Washington date back one hundred years.