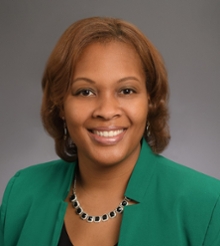 Christy M. Norman, PharmD, MS, has been named vice president of pharmacy services at Emory Healthcare. Norman comes to Emory from Augusta University Medical Center, where she held the positions of administrative director of pharmacy and director of pharmacy residency programs. She is also a clinical assistant professor at the University of Georgia College of Pharmacy.  
In this newly created position, Norman will lead pharmacy services across Emory Healthcare's full enterprise, providing strategic leadership to manage pharmacy services, as well as administrative support to all hospital and clinic pharmacies throughout the Emory system. She will also oversee safety and performance standard processes in compliance with organizational and regulatory guidelines.  
Norman received a Doctor of Pharmacy from University of Georgia and a Master of Science in Health-System Pharmacy Administration from The Ohio State University.  
"Christy's expertise will provide strategic direction for our pharmacy services across the system, with a focus on standardization of clinical processes, pharmacy workflow practices and quality improvements," says Dane C. Peterson, Emory Healthcare Hospital Group President. "We look forward to her leadership in this arena."  
"I am thrilled with the opportunity to join the team at Emory Healthcare," says Norman. "I look forward to working with my colleagues by building on the strong foundation that has already been established in pharmacy services at Emory and elevating the practice of pharmacy to the next level."
---