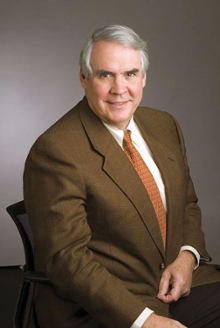 WASHINGTON - Robert Guyton, MD, FACC, has been awarded the 2017 Presidential Citation by the American College of Cardiology (ACC) in recognition of his contributions to the cardiovascular profession. He received the honor at the ACC's 66th Annual Scientific Session in Washington, D.C. on March 19. 
The Presidential Citation is awarded to a person whose contributions to the field of cardiology have been truly extraordinary.
"Dr. Guyton's invaluable contributions to the field of cardiovascular medicine show unparalleled dedication to excellence and boundless commitment to improving patient care," says ACC President Richard Chazal, MD, FACC. 
"It is a privilege to be able to honor Dr. Guyton with the Presidential Citation and celebrate his contributions to and achievements in cardiovascular medicine."
Guyton has served as chief of the Division of Cardiothoracic Surgery at Emory since 1990 and is currently the chief of cardiac surgery at Emory University Hospital. He is the Charles Ross Hatcher, Jr., Professor of Surgery and the director of the Thoracic Surgery Residency Program at Emory University School of Medicine. 
Throughout his career, Guyton has held high-level offices in numerous cardiovascular societies.   He served on the Board of Directors of the Society of Thoracic Surgeons for nine years, including five years as treasurer and president in 2003-2004.  He is currently in his eighth year on the Board of Trustees of the American College of Cardiology and is entering his third year as treasurer.
Guyton was recognized, along with 2017 winners of other awards, at the ACC's Convocation Ceremony on March 19.
The ACC is a 52,000-member nonprofit medical association established in 1949 that leads in the formation of health policy, standards and guidelines. The ACC operates national registries to measure and improve care and bestows credentials upon cardiovascular specialists who meet stringent qualifications.
---