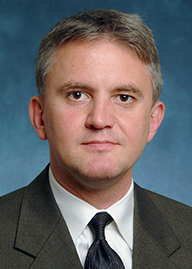 Alexander Isakov, MD, MPH, director of Emory's Section of Prehospital and Disaster Medicine and executive director of the Emory Office of Critical Event Preparedness and Response (CEPAR), is one of 10 experts selected to engage the nation's EMS community in creating a vision for the future of the nation's EMS system. Isakov is professor of emergency medicine at Emory University School of Medicine.
The EMS Agenda 2050 is a two-year project aiming to engage the entire EMS community and other stakeholders in developing a vision and plan for the evolution of emergency medical services over the next several decades. It follows the work of the EMS luminaries that drafted the highly regarded 1996 EMS Agenda for the Future.
The emergency medical services community is broad and includes partners active in emergency medical call-taking and dispatch, out-of-hospital patient management and transport, public safety and public health, and the health systems that care for acutely ill and injured persons. The scope of work is a continuum that includes prevention, acute care, and rehabilitation and recovery.
The Technical Expert Panel is a multi-disciplinary group that will serve as a core team in the development of the new Agenda. The panel was selected from over 150 highly qualified applicants.
"Every community relies on its emergency medical services professionals to be ready to respond to those in need with great care and compassion on a moment's notice," says Isakov. "It is an honor and a privilege to be selected to contribute to an initiative that will further drive innovation and engagement with the goal of realizing an optimally integrated system of emergency care that will yield the best possible outcomes for all members of our community." 
The members of the EMS Agenda 2050 TEP are:
Derek Bergsten, Fire Chief, Rockford, Illinois, Fire Department
Marianne Gausche-Hill, Medical Director, Los Angeles County EMS Agency
Andy Gienapp, Manager, Wyoming Office of EMS, Wyoming Department of Health
Alexander Isakov, Professor of Emergency Medicine, Emory University School of Medicine
William Leggio, Paramedic Program Coordinator and Clinical Faculty, Creighton University, Omaha, Nebraska
Grace Mandel, Project Manager, Baltimore City Department of Health
Kevin G. Munjal, Assistant Professor of Emergency Medicine, Icahn School of Medicine at Mount Sinai, New York, New York
Kyra Neeley, Lieutenant, Fire Commissioner Liaison, Fire Department of New York EMS
Ernesto Rodriguez, Chief, Austin-Travis County Emergency Medical Services, Austin, Texas
YiDing Yu, Founder and CEO, Twiage; Instructor, Department of Population Medicine, Harvard Medical School
Isakov is board certified in both emergency medicine and EMS medicine. He has been active in the EMS community for 25 years and provides leadership in EMS and disaster response throughout the Atlanta metropolitan area. He is director of Emory's Section of Prehospital and Disaster Medicine, whose faculty provide medical oversight for ground and air ambulance responders in metropolitan Atlanta. He is also executive director of the Emory Office of Critical Event Preparedness and Response (CEPAR), which serves as the center for Emory enterprise-wide planning for and coordinated response to catastrophic events.
Isakov concurrently serves as medical director for Air Life Georgia and Sandy Springs Fire Rescue. He also founded the Emory-Grady EMS Bio-Safety Transport Program, which supports the Emory University Hospital Serious Communicable Diseases Unit and the CDC for the transport of individuals who pose a serious contagious disease risk. He serves on the National Association of EMS Physicians Board of Directors and is on the faculty of the National Ebola Training and Education Center (NETEC). He has provided consultation for the CDC, the WHO, USAID and the Institute of Medicine on projects related to emergency response.
EMS Agenda 2050 is supported by funding from the National Highway Traffic Safety Administration (NHTSA) Office of EMS, the EMS for Children program at the Health Resources and Services Administration, the Office of the Assistant Secretary for Preparedness and Response at the Department of Health and Human Services, and the Department of Homeland Security Office of Health Affairs. 
For more information about EMS Agenda 2050, or to share ideas, visit the website.
---