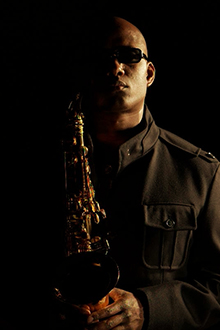 Emory's annual Jazz Fest returns Feb. 10-11 with a weekend of lively performances and educational workshops featuring saxophonist Teodross Avery and the Gary Motley Trio, comprised this year of bassist Rodney Whitaker, drummer Carl Allen and Emory's own Gary Motley. 
"What makes the Emory Jazz Fest unique is that it not only provides Emory students and the community an opportunity to see national artists perform, but also a chance to engage these artists in dialogue, providing invaluable insights into the world of jazz from their perspective," says Gary Motley, director of Jazz Studies at Emory. 
The weekend begins on Thursday, Feb. 9, at 2:30 p.m. with an afternoon master class featuring the visiting artists in the Emerson Concert Hall of the Schwartz Center for Performing Arts. This master class is free and open to the public. 
Avery, who DownBeat magazine says, "represents today's brightest jazz," then takes the stage of Emerson Concert Hall for a concert performance with the Gary Motley Trio on Friday, Feb. 10, at 8 p.m. Tickets are $20, $15 for discount category members (including Emory faculty and staff) and $5 for Emory students. 
On Saturday, Feb. 11, at 11 a.m., Allen hosts a jazz-focused drum clinic in the Tharp Rehearsal Hall of the Schwartz Center. This clinic is free and open to the public. 
The Gary Motley Trio and the Emory Big Band join forces for an evening of swing to close out the festival on Saturday at 8 p.m. in Emerson Concert Hall. Patrons are advised to arrive early to this annual favorite, which is free and open to the public.
For tickets and more information, please visit the Arts at Emory website, or call the Arts at Emory Box Office at 404-727-5050.
---