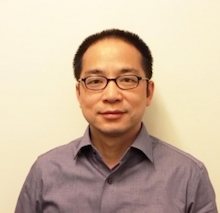 Yonggang Ke, PhD, assistant professor in the Wallace H. Coulter Department of Biomedical Engineering at Georgia Tech and Emory, has been selected to receive a National Science Foundation CAREER Award which recognizes the highest level of excellence among early-stage researchers. The $500,000 NSF CAREER award will be allocated over a five year period.
Many tiny structures in our cells have the ability to act as sensors and computers, taking in information and "making decisions" based on that input. As an example, when the immune system needs to detect and attack a viral infection or not, T cell receptors are central to that process. 
Ke's project aims to design self-assembling machines out of DNA, which will simulate these decision-making processes. He is proposing to refine dynamic DNA molecular arrays into computational tools and physical models, providing a platform for a variety of research and applications.
Participating students will receive training in cutting-edge biomolecular assembly and nanoscience research. The research program will also be integrated with the development of educational outreach activities that are designed to recruit and train next generation scientists. 
Ke joined the Wallace H. Coulter Department of Biomedical Engineering in 2014. He is an associate member of the cancer genetics and epigenetics research program at Winship Cancer Institute of Emory University. Ke received his Ph.D. from Arizona State University, and completed a postdoctoral fellowship at Dana-Farber Cancer Institute.
---