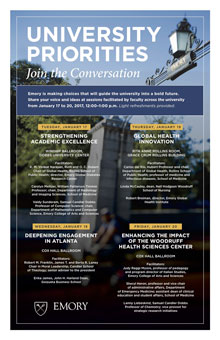 Since the summer of 2015, Emory community members have shared their ideas for helping Emory reach its bold ambition. They've engaged with the "Thinking and Acting Strategically" process that gathered ideas for strategic priorities. They've participated in listening sessions and surveys surrounding the Presidential Search Committee.
Since assuming her role new role at Emory in September 2016, President Claire E. Sterk has augmented those sources of information with a fall listening tour, one-on-one conversations, focus groups and email exchanges with members from across the university community. Now all of these ideas are coalescing into emerging priorities that will define and shape Emory's strategies for the future.
"Our shared future depends on the shared vision we have and the choices we make today," Sterk says. "I am encouraged that so many community members are playing an active role to make their voices heard."
This month, the community has a new opportunity to weigh in on the emerging priorities in a weeklong series of discussions. Led by faculty facilitators from across the university, discussions of individual priorities will be held daily from noon to 1 p.m. from Jan 17-20.
Each session is devoted to one of four priorities: strengthening academic excellence, deeper engagement with Atlanta, global health innovation, and leveraging the Woodruff Health Sciences Center to catalyze synergy between health sciences and other parts of Emory.
"Here's the challenge: We have the ideas, but they are in different heads," says Interim Provost Stuart Zola. "When our students, faculty and staff come together, creativity happens. We are looking forward to the innovative ideas about Emory's priorities that emerge from these catalytic sessions."
The schedule is as follows:
Tuesday, Jan. 17: Strengthening Academic Excellence
Winship Ballroom, 12-1 p.m.
Facilitators:
Vaidy Sunderam, Samuel Candler Dobbs Professor of Computer Science and chair, Department of Mathematics and Computer Science (Emory College of Arts and Sciences)

Carolyn Meltzer, William Patterson Timmie Professor and chair, Department of Radiology and Imaging Sciences (School of Medicine)

K.M. Venkat Narayan, Ruth and O.C. Hubert Chair of Global Health and director, Emory Global Diabetes Research Center (Rollins School of Public Health)
Wednesday, Jan. 18: Deeper Engagement with Atlanta
Cox Hall Ballroom (1,2 & 3), 12-1 p.m.
Facilitators:
Robert Franklin, senior adviser to the president and James T. and Berta R. Laney Chair in Moral Leadership (Candler School of Theology)

Erika James, John H. Harland Dean of Goizueta Business School and professor of organization and management
Thursday, Jan. 19: Global Health Innovation
Rita Ann Rollins Room, Rollins School of Public Health, 12-1 p.m.
Facilitators:
Carlos del Rio, Hubert Professor and chair of the Department of Global Health (Rollins School of Public Health); professor of medicine; co-director, Emory Center for AIDS Research

Robert Breiman, director of the Emory Global Health Institute

Linda McCauley, dean of the Nell Hodgson Woodruff School of Nursing
Friday, Jan. 20: Enhancing the Impact of the Woodruff Health Sciences Center
Cox Hall Ballroom (1,2 & 3), 12-1 p.m.
Facilitators:
Sheryl Heron, professor and vice chair of administrative affairs, Department of Emergency Medicine and assistant dean of clinical education and student affairs (School of Medicine)

Lanny Liebeskind, Samuel Candler Dobbs Professor of Chemistry (Emory College); vice provost for strategic research initiatives

Judy Raggi Moore, professor of pedagogy, Italian, and director, Italian Studies Program (Emory College)
As priorities are examined and refined, Sterk is confident that Emory will arrive at the choices that allow it to claim areas of bold ambition.
"By doing so, we will transform our will to lead into having a significant, positive impact on our city, region, nation and world," she says.
---