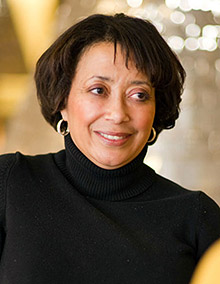 Angela Amar, PhD, RN, FAAN, assistant dean for BSN education at Emory's Nell Hodgson Woodruff School of Nursing, has been appointed Associate Dean for Undergraduate Education. In this role, she will lead the school's undergraduate programs and advise senior leadership on curriculum, program planning and student affairs. Amar previously served as assistant dean for BSN Education at the School of Nursing.
"Through Dr. Amar's vision and innovative teaching strategies, the School of Nursing continues to advance the learning and leadership of its undergraduate students, particularly in the areas of forensic nursing and cultural diversity," says Linda McCauley, PhD, RN, dean of the Nell Hodgson Woodruff School of Nursing. "Her commitment to BSN education as a part of the undergraduate experience makes her an excellent choice to lead the school's undergraduate program."
As assistant dean for BSN education, Amar secured funding from such agencies as the U.S. Department of Health and Human Services and the National Institutes of Health (NIH) to support the development of several School of Nursing programs to foster diversity and to prepare nurses from all backgrounds to meet the culturally-diverse needs of today's health care environments. As principal investigator of the NIH-sponsored Bridges to Baccalaureate Program, she has helped many community college students develop the leadership, scholarship and clinical skills needed to complete their BSNs and continue their education to become PhD-prepared nurse scientists. Amar also leads the school's Building Nursing's Diverse Leaders at Emory (BUNDLE) program that develops nursing leadership within underrepresented groups.
Amar led the recent redesign of the school's undergraduate curriculum, which  introduced new courses in population health, ambulatory care and palliative care to better prepare students for care coordination and delivery in an increasingly complex health care environment. She also developed online prerequisite courses, nursing courses for freshmen and sophomores at Emory, and collaborative initiatives with colleagues at Oxford and Emory Colleges.
She is a distinguished fellow of the International Association of Forensic Nurses and a fellow of the American Academy of Nursing and the National League for Nursing's Academy of Nursing Education. She is a nurse faculty scholar of the Robert Wood Johnson Foundation and was named Nurse of the Year in Behavioral Health by the March of Dimes' Georgia chapter. Her introductory textbook on forensic nursing, A Practical Guide to Forensic Nursing, recently received two 2016 American Journal of Nursing (AJN) Book of the Year Awards.
---