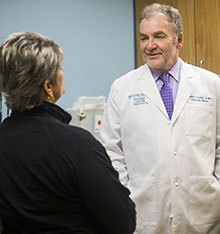 On December 7, the U.S. Senate passed the 21st Century Cures Act, following passage by the U.S. House of Representatives on November 30, both with overwhelming support. This bipartisan legislation reflects an effort to expedite the discovery, development and delivery of new treatments and cures. President Obama is expected to sign the bill.
Emory, and its Office of Government and Community Affairs, was a strong advocate of the legislation, working with Georgia Senator Johnny Isakson. The bill's passage will impact Emory across campus and its health science facilities.
The Cures Act provides more than $4.8 billion over 10 years to the National Institutes of Health (NIH) for the Precision Medicine Initiative; the Brain Research Through Advancing Innovative Neurotechnologies Initiative (BRAIN) to better understand diseases like Alzheimer's; Vice President Biden's Cancer Moonshot initiative; and regenerative medicine using adult stem cells. In an effort to fight opioid abuse, the bill provides $1 billion over two years for grants to states in their fight against the epidemic.
The legislation also reflects an investment in the research pipeline by creating a "Next Generation of Researchers Initiative" at NIH to improve opportunities for new investigators. The bill requires a number of actions aimed at reducing the administrative burden for researchers, including an effort to harmonize existing policies.
The 21st Century Cures Act seeks to advance new therapies for patients by implementing patient-focused drug development, advancing new drug therapies, and providing the Food and Drug Administration (FDA) with $500 million for regulatory modernization in an effort to recruit and retain top scientific talent. The legislation ensures these therapies reach patients by improving delivery.
The Cures Act aims to make electronic health record systems interchangeable and to provide better patient access to health information.
Senator Isakson advanced seven sections of the bill, including a priority review voucher for rare pediatric diseases.
"Emory and other academic medical centers across the country have long supported the initiatives and programs that will be advanced through the 21st Century Cures Act," says Jonathan S. Lewin, MD, Emory executive vice president for health affairs, executive director of the Woodruff Health Sciences Center, and president, CEO and chairman of Emory Healthcare.
"This legislation will have a tremendous impact on the health of millions of Americans through long-term NIH support for discovery of innovative treatments for diseases like cancer and Alzheimer's, ensuring that new drugs reach patients more quickly, and tailoring treatments to individuals. We look forward to continuing patient-focused research that benefits from strong federal support, and we greatly appreciate Senator Isakson's diligent work on behalf of patients, and their families, in Georgia and across the nation."
"The 21st Century Cures Act is a bold bi-partisan effort to drive progress against many human diseases through bold initiatives in science and medicine," says Walter J. Curran, Jr., MD, executive director, Winship Cancer Institute of Emory University. "There have been dramatic improvements recently in the survival of patients with many types of cancer due to federal support of cancer research, and I expect the 21st Century Cures Act to accelerate that narrative."
Beyond just cures, the legislation includes a number of mental health reforms, reflecting the most significant changes to the system in more than a decade.
"The 21st century cures act includes some extremely important legislation that will begin to address three critical psychiatric and mental health needs," says Mark Hyman Rapaport, MD, Reunette W. Harris professor and chair of the Department of Psychiatry and Behavioral Sciences at Emory University School of Medicine. "It will prioritize badly needed funds toward the development of preventive and intervention services for children. If we can keep children well or heal them in real time, we can change a life-long trajectory of despair. The bill recognizes and provides critical funding for work in suicide prevention and intervention as well as the opioid crisis. This recognition of these urgent problems, as well as the funds allocated by this legislation, are a major advancement for the public health of our society." 
Georgia Congressman Doug Collins advanced language in the package called the Comprehensive Justice and Mental Health Act, which leverages the expertise of both law enforcement and medical professionals on the ground.
Of particular importance to hospitals, the bill would move the grandfather date for off-campus hospital outpatient departments under development from Nov. 2, 2015 to Dec. 31, 2016 or 60 days after enactment, whichever is later; adjust the Hospital Readmissions Reduction Program to account for socioeconomic status; extend the Rural Community Hospital Demonstration Program for five years; and provide one full year of relief from the Long-term Care Hospital 25% Rule.
"This package includes a myriad of provisions important to academic health centers, like Emory, and the patients we serve," says Cameron Taylor, vice president for government and community affairs. "It is the most comprehensive medical innovation and public health measure of the 114th Congress; and we are grateful for the support of the Georgia congressional delegation."
A summary of the bill is available here.
---