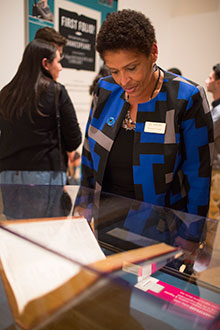 Emory University Librarian Yolanda Cooper views this First Folio, which is on display in the Carlos Museum through Dec. 11.
Emory University received accolades from the director of the Folger Shakespeare Library on the "First Folio! The Book that Gave Us Shakespeare" exhibit at the Carlos Museum and the extensive, collaborative programming across campus departments and units.
Folger director Michael Witmore made the comments while he was on the Emory campus Monday, Dec. 5, for his lecture, "The Wonder of Will." The lecture was part of the closing salute to the First Folio exhibit, which will end on Sunday, Dec. 11.
An engaging speaker, Witmore discussed the Bard's enduring popularity and writing prowess, as well as how Shakespeare's words and plotlines have permeated changing mediums and popular culture over the past four centuries. More than 200 people from the Emory and Atlanta communities attended Witmore's talk.
"Michael Witmore's talk demonstrated his commitment to the traditional values of rare books as well as to the new information made available through modern science and technology," said Sheila Cavanagh, Emory English professor and co-director of Emory's Year of Shakespeare and First Folio projects. "The First Folio tour similarly represents Shakespeare's place within a broad range of cultures, historical periods and emerging art forms."
Emory's First Folio programming
Witmore said he wanted to mark the end of the First Folio's national tour at Emory to learn more about the cross-campus collaboration and programming during Emory's Year of Shakespeare. Events included lectures and performances open to the public, an evening for educators, and a symposium on Shakespeare and accessibility.
"Every location made it their own," Witmore said. "At Emory, you've had this really incredible programming around the book. We're seeing collaboration between libraries, theater groups and departments, mobilizing the community to get people to come on campus, getting teachers involved. I think that's the recipe for success. You've got terrific intellectual leadership and library collections, great people thinking about performance and adaptation."
Emory Libraries has hosted seven events and eight exhibits since March 2016, including displays of Bard-inspired items in popular culture and postcards of 19th-century Shakespearean actors. "To the Great Variety of Readers: Publishing Shakespeare" focused on the Second, Third and Fourth Folios, as well as other examples of early English printing; the exhibit will return to the Rose Library April 3-May 15.
"It has been an honor for Emory to host the Georgia stop for the First Folio tour," said Rosemary M. Magee, director of the Stuart A. Rose Manuscript, Archives and Rare Book Library. "For almost a year, which has been 'merry as the day is long,' we've been engaged by lectures, exhibits, performances, panelists, films, scholars and artists — all in pursuit of understanding the genius that Shakespeare brought to our midst through his language and sense of drama."
Emory is the only site to display the Second (1632), Third (1663) and Fourth Folios (1685) alongside the First Folio, made possible by a loan of the Second and Third folios from Rose Library benefactor Stuart A. Rose.
"I knew the Rose Library had the Fourth Folio," Rose said Monday. "I thought, what could be more unique that having the First, Second, Third and Fourth folios together? I think we're the only tour stop that combined the four books to make our exhibition stand out."
Shakespeare at Emory programming will continue through this academic year, with a variety of activities, presentations and exhibits hosted by the Carlos Museum, Emory Libraries and Theater Emory.
"Emory Libraries is proud to have been part of this Shakespeare celebration and to provide the campus and Atlanta communities the opportunity to experience such an important part of history," said Emory University Librarian Yolanda Cooper.
Tour reflections
The First Folio has traveled to all 50 states and two U.S. territories since January 2016, and each exhibit featured the book opened to Hamlet's "To be or not to be" soliloquy. More than 500,000 people have seen the First Folio in person on this tour, Witmore said.
Why send out such a rare and precious book from the non-circulating Folger Library? Witmore said that since the Folger has 82 copies (out of 234 known copies that exist), library officials felt they could safely send out a few copies for a cross-country tour — using the utmost security and climate-controlled means.
"We decided when we were planning the tour that it had to go to all 52 places," he said. "We want the next transformative writer in English — the next William Shakespeare, the next Toni Morrison — to come face to face with that book, and there is no way to tell in the advance where that person is going to be."
Shakespeare fascination
Why does Shakespeare's work continue to fascinate us more than 400 years later?
"I think he had a terrific sense of the human heart in any situation, whether it's falling in love for the first time like Juliet, or if you're an untested leader like Henry V, or if you're an outsider like Othello," Witmore said. "The fact that these stories are so deep and powerful and so widespread means that our ability to recognize ourselves in them is still very high. Shakespeare saw the human drama in situations that we still recognize today."
Shakespeare's universal themes of love, betrayal, greed and revenge have been remade many times through multiple mediums, from books and plays, to silent films and talkies, to radio, television, movies and beyond. Witmore said the Netflix series "House of Cards" is based on "Macbeth" with dashes of other Shakespeare plays, as is the Fox series "Empire," which also taps "Othello" and "The Lion in Winter" and borrows a phrase from a Shakespeare play for the title of each episode.
Witmore added that Shakespeare's world was in the process of becoming our world today. Along with the printing press and the media change it brought, issues of race, international trade, science, religious tolerance, freedom of the press and of expression and inquiry were becoming a reality.
"That's really the groundwork for the modern world," Witmore said. "Shakespeare had a front-row seat to all this, and that's what allowed him to speak to the human situation and life in the state of disruption and change, and that's what still speaks to us in an age of turbulence."
---