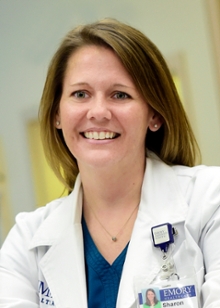 Sharon Vanairsdale, MS, APRN, program director of the Serious Communicable Diseases Unit (SCDU) at Emory University Hospital and adjunct professor at the Nell Hodgson Woodruff School of Nursing, received the Magnet Nurse of the Year® Award for Exemplary Professional Practice by the American Nurses Credentialing Center (ANCC).  The award, presented at the ANCC National Magnet Conference®, recognizes outstanding contributions of clinical nurses for innovation, consultation, leadership and professional risk-taking.
 
Just two years prior, the Special Communicable Diseases Unit team, led by Medical Director Bruce Ribner, MD, and EUH Chief Nursing Officer Nancye Feistritzer, DNP, RN, requested Vanairsdale's assistance in preparing the team to care for America's first patients diagnosed with Ebola virus disease. As clinical nurse specialist for the unit at that time, she was responsible for safety practices, readiness and protocols. 
 
Following the successful treatment of four patients with Ebola, Vanairsdale focused on educating the Emory Healthcare (EHC) enterprise and the nation about caring for patients with highly infectious diseases while protecting health care workers from illness. Using the principles "Identify, Isolate, Inform", Vanairsdale and the SCDU team trained more than 700 EHC personnel. Partnering with the CDC and Nebraska Medicine, Vanairsdale directed in-person courses in Atlanta, successfully educating more than 600 health care and public health workers from across the U.S. on Ebola treatment and preparedness protocols.
The success of the initial education led to the development of the National Ebola Training and Education Center (NETEC), a collaboration with Emory University, Nebraska Medicine and NYC Health + Hospitals (Bellevue). Vanairsdale serves as a content expert in several areas of this program's missions and travels to hospitals across the U.S. to train and provide technical assistance to ensure facilities and caregivers are prepared to treat patients with Ebola and emerging highly infectious diseases. NETEC is supported by a $12 million grant through the Health & Human Services Office of the Assistant Secretary for Preparedness and Response and the CDC.
"Sharon is a remarkable and exemplary nurse with an immense amount of passion and dedication to the profession," says Feistritzer. "The Exemplary Professional Practice National Magnet Nurse of the Year Award is a fitting testament to her many achievements and strides within her very successful career. She is a great value to the Emory Healthcare team and our patients; we are truly proud of her well-deserved recognition."
Linda McCauley, PhD, RN, dean of the Nell Hodgson Woodruff School of Nursing, says Vanairsdale's honor is a reflection of the outstanding training of Emory nurses and the important contribution nurses make in supporting the organization's high standard of care.
"Sharon's recognition is reflective of the exceptional standard of care that Emory nurses consistently provide each and every day," says McCauley. "In a rapidly evolving environment where there were still so many unknowns, Sharon courageously stepped forward as a leader and a champion for not only Emory University Hospital's critically ill patients, but for the frontline clinicians, who were caring for them. She developed personal protective equipment and other clinical standards that went beyond recommended guidelines to ensure the safety of staff and patients, and continues to share her knowledge and experience to advance the quality of care nationwide."
---