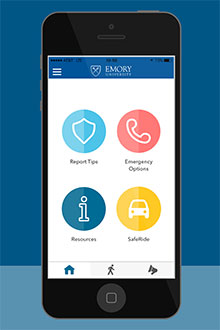 Emory is placing a new mode of personal safety support directly into the hands of the campus community with the launch of LiveSafe, a free mobile app.
Developed for smartphones and tablets, the LiveSafe app provides a quick, convenient and discreet way for students, faculty and staff to communicate directly with Emory University public safety officials.
Key features of the app allow members of the campus community to:
Call or message Emory University Police — or 911 — quickly. If you choose, a location-tracking feature can immediately signal your whereabouts to public safety officials.
Report safety concerns, accidents or crime tips in real-time to Emory police via text, photos, video or audio. The "Report Tips" function also allows you to immediately engage in a live chat with safety officials, if you choose.
Navigate campus using a "SafeWalk" feature. The GPS-enabled location technology allows users to invite family, friends or colleagues to "virtually escort" them by following their location in real-time on a digital map. Alerts are sent when the user is delayed, has arrived or summons help.
Connect with SafeRide, a free shuttle service that allows you to reserve a ride from your dorm room, office or library if traversing campus at night or to request a safety escort.
Receive campus safety notifications and emergency alerts from Emory police.
Quickly access a range of important campus safety resources, including information about basic emergency procedures, health and wellness contacts, and resources to address sexual and relationship violence.
Enhancing campus safety
The LiveSafe app is multi-functional platform now available at no cost to faculty, staff and students on Emory's Atlanta and Oxford College campuses, says Sam Shartar, senior administrator for Emory's Office of Critical Event Preparedness and Response (CEPAR), which is managing the mobile security system.
"The Emory Safety Alliance partnered with CEPAR to look at several available safety apps and concluded that this one offered the best functionality," he says. "The more members of the Emory community who will download and use this app to enhance their safety on campus and share beneficial information, the better off we'll be."
Campus safety apps such as LiveSafe have been gaining popularity at colleges and universities across the country, including Yale, Duke and Pepperdine universities, Georgia Institute of Technology, Georgia State University and SCAD Atlanta.
Although emergency and preparedness resources can now be found on Emory's CEPAR website — including information about Emory's emergency notification program, education and training, and quick links — the LiveSafe app now neatly corrals much of that existing information onto your personal mobile device.
"People receive information in different ways. This app allows for enhanced communication directly between the user and Emory police," Shartar says. "For our campus community, it will offer another important option in the public safety toolbox."
"It doesn't replace Emory's emergency notification program, but it will provide another way to receive information," he adds.
Given Emory's academic partnerships with Georgia Tech, Shartar anticipates that LiveSafe will eventually link both institutions in order to aid faculty, staff and students who frequent both campuses.
"The Emory community will find many resources within the app, but we will certainly be open to feedback about adding other resources and information," he adds.
Streamlined safety communication
While the interactive nature of the app will be welcomed by those seeking immediate assistance, Shartar emphasizes that users will not automatically be tracked unless they allow it by enabling the GPS-powered location option.
"In order for public safety officials to locate you, the user has to allow themselves to be found every time they use it," Shartar says.
"For example, if I want to report a suspicious incident, when I message Emory police I have the option to remain anonymous or to be known," he says. "We don't track you, nor do we want to track you, as long as you're not involved in a criminal enterprise,"
To download and start using the LiveSafe app:
Search for "LiveSafe" in the App Store or Google Play on your mobile device.
Install the app and complete the user profile information, along with your mobile phone number, which will allow Emory to better respond to your reports. Create a password and fill in your name.
Enable push notifications when prompted. Public safety alerts will be sent through SMS, email and push notifications. You will not be spammed.
Enable location services when prompted. Public safety officials rely on GPS data to better serve and protect users. When you report an incident or make an emergency call through the app, responders will see your location — although you are not being actively tracked and can stop location tracking during emergencies at any time.
Under "Manage Organizations," search for Emory University to connect with campus
Add your email to your profile (left menu>settings>profile).
---