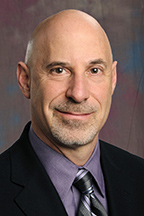 Emory researcher and neurosurgeon Robert Gross, MD, PhD, and his research team have been awarded a nearly $5 million grant from the National Institutes of Health (NIH) in support of the Brain Research through Advancing Innovative Neurotechnologies (BRAIN) Initiative. Gross' research will focus on improving the outcome of persons with medication-resistant mesial temporal lobe epilepsy.
NIH announced its third round of grants today, bringing the total fiscal year 2016 investment to just over $150 million.
"In only three years we've already seen exciting new advances in neuroscience research come out of the BRAIN Initiative," says Walter J. Koroshetz, MD, director of NIH's National Institute of Neurological Disorders and Stroke.
These awards expand NIH's efforts to develop new tools and technologies to understand neural circuit function and capture a dynamic view of the brain in action. This five-year award will enable Gross and his fellow principal investigators, Annaelle Devergnas, PhD, assistant professor of neurology, Claire-Anne Gutekunst, PhD, assistant research professor of neurosurgery, and Babak Mahmoudi, PhD, assistant professor of biomedical informatics, to use a novel bi-directional neuromodulation system to help control epileptic seizures.
"Our goal is to figure out a way to make good therapy that has involved brain stimulation turn into great therapy," says Gross, who is also director of the Emory Neuromodulation Technology Innovation Center (ENTICe). "We hope to optimize neurostimulation therapies for epilepsy by discovering new ways to do stimulation that integrate with the nervous system."
In 2013, President Obama launched the BRAIN Initiative as a large-scale effort to equip researchers with insights necessary for treating a wide variety of brain disorders like Alzheimer's, schizophrenia, autism, epilepsy and traumatic brain injury. The World Health Organization estimates that devastating brain disorders affect more than one billion people worldwide.
"There are very few effective cures for neurological and neuropsychiatric disorders," says Koroshetz. "By pushing the boundaries of fundamental neuroscience research, NIH BRAIN Initiative scientists are providing the insights researchers will need to develop 21st century treatments."
The NIH component of the BRAIN Initiative is guided by the long-term scientific plan, BRAIN 2025: A Scientific Vision, which emphasized an early investment in basic neuroscience research. Over the past two years, NIH BRAIN Initiative funded researchers have produced several breakthroughs and published over 125 academic research articles.
Disclosure: Gross serves as a consultant to Medtronic, which manufactures products related to the research described in this paper. Gross receives compensation for these services. The terms of this arrangement have been reviewed and approved by Emory University in accordance with its conflict of interest policies.
---