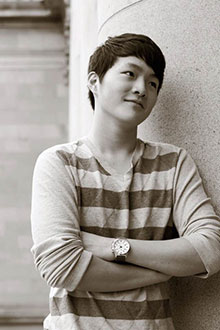 Members of the Emory community filled Cannon Chapel on Monday evening to honor the life of student David Kim, who passed away on Saturday, Oct. 22.
Born Sept. 4, 1995, Kim was a senior in Emory College of Arts and Sciences majoring in quantitative sciences with a concentration in economics, as well as a minor in Chinese studies.
A well-respected and much-loved student leader, he served as external vice president of both the Korean Undergraduate Student Association (KUSA) and Emory Code Zero, which focuses on mentoring, career and networking opportunities.
"He was a man with a bright smile, confidence and who gave others a positive energy, making our loss very tough for everyone today," friend Tae Yoon Kim said at the beginning of the service, which was planned by students and conducted in Korean out of respect for both David Kim's culture and his family, who attended the ceremony.
Gabe Ryu outlined Kim's many activities as an Emory student, which also included summer internships at American Express Global Business Travel in New York City in 2016 and First Data Corporation in Atlanta in 2015. Brian Eun delivered an emotional "message from a friend," bringing many in the audience to tears.
Before the ceremony of prayers and memories, students gathered downstairs in Cannon Chapel so they could enter the sanctuary together. Dressed mostly in black, they walked in small groups to the altar, pausing to place flowers or pray in front of a photo of Kim before taking their seats.
As the students filed in, eventually filling the chapel to the balconies, music played and a video screen displayed photos of Kim with his many friends — attending KUSA events, playing mini-golf, sitting on the iconic Emory wall at the front of campus, singing, and just hanging out and posing for selfies.
And as the ceremony concluded, the video presentation played again, with photos of Kim now accompanied by these words: "David was … respected vice president of Code Zero, charismatic vice president of Emory KUSA, and a loving friend."
"What we have once enjoyed we can never lose," the video reminded attendees. "All that we love deeply becomes a part of us."
Where to get support
Emory offers a variety of campus resources to help students, faculty and staff coping with grief and loss:
Emory HelpLine is an anonymous, peer counseling telephone service for students that is open from 8:30 p.m. to 1 a.m., seven days per week during the regular academic year (excluding major holidays). Students with non-urgent mental health situations may contact the HelpLine at 404-727-4357 (HELP).
Faculty Staff Assistance Program (FSAP) promotes wellness by providing a variety of services that enhance the emotional and physical health of Emory employees and their families. FSAP offers individual, couples and group counseling, consultations, coaching, stress management resources, critical incident response, educational and outreach workshops, and team dynamics services. The FSAP provides daytime emergency appointments and on-call after-hours services. 404-727-WELL (9355).
Counseling and Psychological Services (CAPS) provides individual, group and couples counseling; stress management classes; and community outreach to provide support for students and assist them in negotiating emotional and interpersonal difficulties as they matriculate through Emory University. 404-727-7450.
Office of Spiritual and Religious Lifeis accessible and available for students, faculty and staff, with offices in Cannon Chapel (Suite 316) and Dobbs University Center (DUC E226). 404-727-6225.
Student Intervention Services (SIS) assists students in times of crises, not only as a resource during emergencies, but as a source of impartial, judgment-free counsel for students seeking guidance and assistance through life's difficult times. 404-430-1120.
Student Health Services (SHS) offers free psychiatric services for all enrolled Emory students. Services offered include diagnostic psychiatric evaluations, medication evaluations, long-term management of psychiatric medications and community referrals. Guidance for after-hours emergencies is also available. 404-727-7551.
---