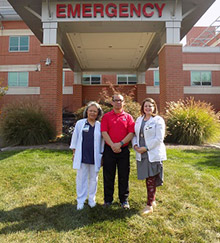 Three Emory Johns Creek Hospital (EJCH) employees are on call for the Georgia 3 Disaster Medical Assistance Team (GA-3 DMAT), to help victims of natural and man-made disasters.
Erin McCollum, CPhT, medication reconciliation assistant; Roland Tam, PharmD, clinical specialist; and Angelina Trinidad, RN, House Supervisor at EJCH, serve on GA-3 DMAT. The agency is part of the National Disaster Medical System, which provides health and medical care to patients in severe conditions.
McCollum recently returned from training at a government facility in Alabama after the team was activated to respond to Hurricane Matthew.
Hurricane Matthew made landfall in Haiti and eastern Cuba as a Category 4 storm on Oct. 4. The storm moved near the coasts of Florida, Georgia, North Carolina and South Carolina, prompting evacuations of thousands of residents.
GA-3 DMAT deployed McCollum and more than 40 other team members to Alabama. They spent four days training in case they were called to assist with disaster relief. Although her team wasn't sent into the storm aftermath, McCollum says the team completed training exercises, reviewed communications equipment, met with the Disaster Mortuary Operational Response Team and completed fit tests for healthcare masks.
"Training is critical to our missions, so our team is ready to deal with all scenarios," McCollum says. "We pack like we're going to live in a tent and not have running water."
Tam and Trinidad have also served on several missions in austere conditions. They've cared for patients after Hurricane Charley, Hurricane Gustav, Hurricane Ivan, Hurricane Katrina and Hurricane Sandy.
Trinidad says she's treated patients with cuts, burns, fractures and helped people who have lost their medications during disasters, among all of their belongings. Trinidad says her team was deployed three times to Louisiana after Hurricane Katrina and they worked 12 hour shifts, 7 days a week.
"We built our own shower and bathrooms and all slept together in a tent," Trinidad says. "We had no hot water or lights, just our flashlights."
Another disaster that Tam says he'll never forget is the 7.0 magnitude earthquake that hit Haiti, in 2010.
He says the destruction was unimaginable, but he's grateful his team could help.
"We spent two weeks in Haiti helping the people devastated by the earthquake," Tam says. The people really appreciated our efforts and it made our work feel very rewarding."
GA-3 DMAT launched in January 1991. The team is on call every three months to respond to disasters. The multidisciplinary team is made of physicians, nurses, pharmacists, paramedics, chaplains, administrative and communications officers, logistic experts, respiratory therapists, psychiatrists and security.
---