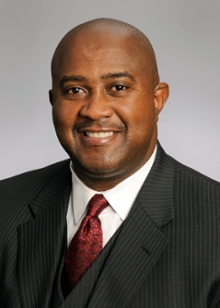 Timothy Williams, director of public safety for Emory Healthcare, has been appointed to the Georgia Board of Private Detectives and Security Agencies by Gov. Nathan Deal. Williams was sworn into the position on Sept. 22.  
The Georgia Board of Private Detectives and Security Agencies administers "The Private Detective and Security Agencies Act" to safeguard the citizens of this state by regulation of private detective and security businesses. The board has authority to determine qualifications of applicants for licensure and to investigate complaints and take appropriate disciplinary action. Williams is one of seven members appointed to this specialty board by the Governor.  
Williams joined Emory Healthcare in 2001 as assistant director of public safety. Prior to that, he had previous law enforcement experience as a deputy chief of police and has worked as a criminal investigator in Lee County, Alabama. His police career started in South Carolina.  
Williams is a member of Atlanta Metropol, the Atlanta Security Council and the Fulton County Public Safety Training Center. He is the technical chair for SkillsUSA Georgia, a national, nonprofit student organization that has developed more than 10 million workers through active partnerships between employers and educators. Previously, Williams sat on the board of directors for the International Association of Healthcare Safety and Security.  
Williams earned a bachelor's degree from Morris Brown College and a master's degree in criminal justice from Troy University.
---