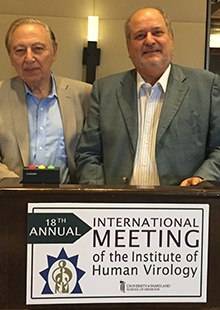 The Institute of Human Virology (IHV) at the University of Maryland School of Medicine has awarded Raymond Schinazi, PhD, Hon DSc, with the 2016 IHV Lifetime Achievement Award for Public Service. Schinazi is the Frances Winship Walters Professor of Pediatrics, Director of the Laboratory of Biochemical Pharmacology at Emory University, and Director of the Scientific Working Group on Viral Eradication at the Emory Center for AIDS Research (CFAR). He is a member of the Board of Directors of the Global Virus Network.
The award was presented at a gala on Wednesday, Sept. 21 at the IHV 18th Annual International Meeting in Baltimore, where hundreds of scientists gathered to share ideas and inspire collaborations.
"Ray Schinazi is an outstanding leader in the field of antiviral drug research, and his extraordinary ability in translating research has saved the lives of many millions of people globally," said Robert C. Gallo, MD, director of the IHV, and most widely known for his co-discovery of HIV as the cause of AIDS and, along with his coworkers, for the development of the HIV blood test.
A world leader in the area of nucleoside chemistry, Schinazi is the co-inventor of HIV/AIDS drugs taken by 94 percent of U.S. patients on drug therapy and by thousands more globally. He is founder of five biotechnology companies focusing on antiviral drug discovery and development: Cocrystal Pharma; Pharmasset Inc. (acquired by Gilead in 2012), Triangle Pharmaceuticals (acquired by Gilead in 2003), Idenix Pharmaceuticals (51 percent acquired by Novartis in 2003).
Schinazi has served on the Presidential Commission on AIDS and is the recipient of numerous awards including the Georgia Biomedical Industry Growth Award, the Distinguished Scientist Award from the Hepatitis B Foundation, the Ewing Marion Kauffman Foundation's Top Innovators in America Award, the Pharmaceutical Research and Manufacturers of America (PhRMA) Research & Hope Award, and the Middleton Award from the Veterans Administration. He currently serves as a Governing Trustee for the Foundation for AIDS Research (amfAR) and as a Board member for the International Centre for Missing and Exploited Children (ICMEC). He was inducted into the Technology Hall of Fame of Georgia in March 2012, and he received the Intellectual Property Legends Award in October 2012.
---