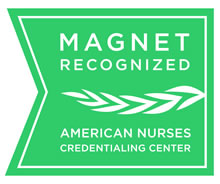 Emory University Orthopaedics & Spine Hospital (EUOSH) has achieved Magnet® recognition from the American Nurses Credentialing Center (ANCC) as a reflection of its nursing professionalism, teamwork and superiority in patient care. With EUOSH's achievement, Emory Healthcare is the only health system in Georgia with three Magnet-designated hospitals. Emory Saint Joseph's Hospital has been recognized as a Magnet hospital since 1995, and Emory University Hospital received its Magnet designation in 2014.
ANCC's Magnet Recognition Program® is the most prestigious distinction a health care organization can receive for nursing excellence and quality patient outcomes. Only 444 health care organizations around the globe have achieved Magnet recognition. In Georgia, only four other hospitals, in addition to the three Emory hospitals, have been designated Magnet facilities.
"Magnet recognition provides our community with the ultimate benchmark to measure quality of patient care," says Jonathan S. Lewin, MD, president, CEO and chairman of the board for Emory Healthcare. "Achieving Magnet recognition reinforces a culture of excellence by our team of nurses, physicians and support staff, who are committed to providing the very best care to our patients and their families."
To achieve Magnet recognition, organizations must pass a rigorous and lengthy process that demands widespread participation from leadership and staff. This process includes an electronic application, written patient care documentation, an on-site visit and a review by the Commission on Magnet Recognition.
"The on-site visit gave the EUOSH team the opportunity to answer questions and showcase our teamwork in action," says June Connor, RN, chief nursing officer and chief operating officer at EUOSH, and interim chief nursing executive for Emory Healthcare. "The appraisers were truly impressed with the work of our teams and appreciated the participation and cooperation of the staff, physicians and nurses whom they encountered. Our Magnet designation validates that our teams are on the right path to continued success."
Achieving Magnet status has been shown to provide specific benefits to hospitals and their communities, such as:
Higher patient satisfaction with nurse communication, availability of help and receipt of discharge information.

Lower risk of 30-day mortality.

Lower failure to rescue rates.

Higher job satisfaction among nurses.

Lower nurse vacancy and turnover rates.
"As we often say, Magnet is a journey, not a destination," says Bryce Gartland, MD, CEO of Emory University Orthopaedics & Spine Hospital, Emory University Hospital and Emory Wesley Woods Hospital. "This designation validates our superior nursing practices and outcomes. Congratulations and thank you to our nurses, physicians and support teams who have worked tirelessly to achieve this recognition."
Because Magnet recognition is the gold standard for nursing excellence, it is a factor when health care organizations are ranked nationally for their clinical programs and expertise. U.S. News & World Report's annual showcase of "America's Best Hospitals" includes Magnet recognition in its ranking criteria for quality of inpatient care.
A hospital's Magnet designation lasts for four years, then hospitals must reapply for designation.
To find a list of all Magnet-designated hospitals, access this link: http://www.nursecredentialing.org/Magnet/FindaMagnetFacility.
---